Gold is resistant to moderate loads, so products made of this material last a long time, despite frequent use. However, traces of wear and tear gradually become visible. These imperfections reduce the attractiveness of the jewelry: its shine disappears, micro-damage occurs, and sometimes there are large scratches. Return to ringsIt's not that hard to make gold earrings attractive. You don't have to take them to a jeweler every time. It is enough to learn how to gold cleaning at home: composition, rules of preparation, use. The choice is made taking into account the properties of metal, stones.
Why gold darkens and loses its luster. Options to restore gold to its pristine beauty
Appearance gold jewelry deteriorates for a variety of reasons. The most obvious of them is a blow, a fall or other method of mechanical damage. But there are also factors that have subtle effects:
Cosmetics, perfumes contain compounds that interact with the precious metal, if the gold in its pure form resists such effects, then the introduction of additives in the composition of the properties change;
The secretion of sweat, sebaceous glands, and the precious metal becomes cloudy and can oxidize;
Dust particles and other contaminants that settle on earrings, rings and other jewelry.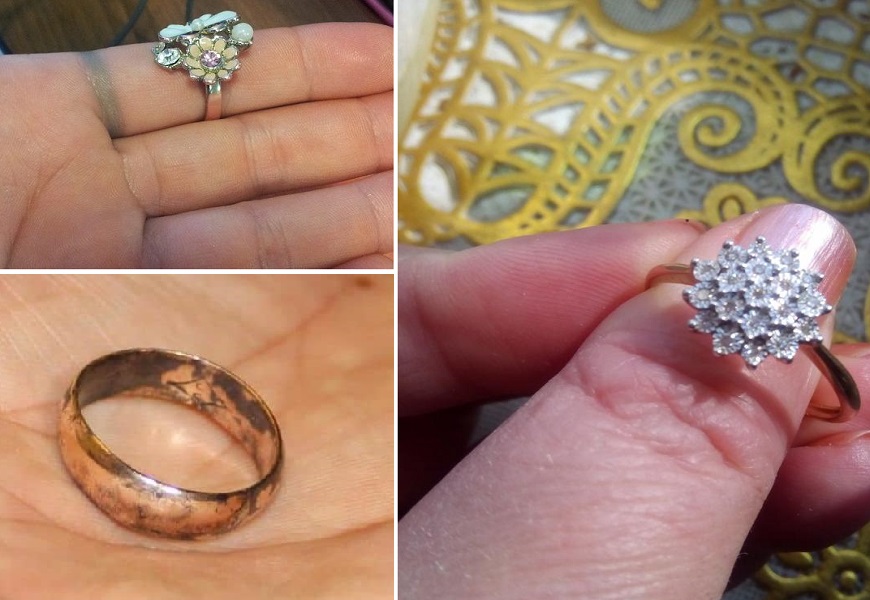 Often it is the combination of these substances and components that forms a plaque on the surface of gold jewelry, which is difficult to scrape off. As a result, different possibilities are considered: professional and home remedies, special equipment. Complex contaminants are removed in salons and workshops.
Trust the jeweler. The cost of the service is on average
The benefits of professional cleaning with equipment and special chemicals by a master:
high speed of work: dirt is removed due to the effectiveness of chemical compounds;
quality cleaning;
universal methods: you can restore earrings, bracelet, chain, the rest of the varieties;
it is possible to clean jewelry with different compositions;
the degree of contamination of the jewelry can be different.
The cost of restoration services varies, which is determined by the amount of work, the type of product and its condition. The average price is 100 rubles (in small workshops, if the dirt is weak, and they remove it manually with solutions) and 350 rubles (professional cleaning with equipment).
Use a professional jeweler's remedy. Examples and costs
You can quickly clean grease stained gold or blackened precious metal jewelry at home if you pay attention to special products:
| Form of substance | Product name | Name of organization | Price, rubles. |
| --- | --- | --- | --- |
| Paste | Talisman universal cleaner for silver and gold jewelry | Silverdiscount | 220 |
| Spray | Sunlight Spray | Sunlight | 240 |
| Wipes | Jewelry Polishing Cloths | SVERCHOK.RU | 215 |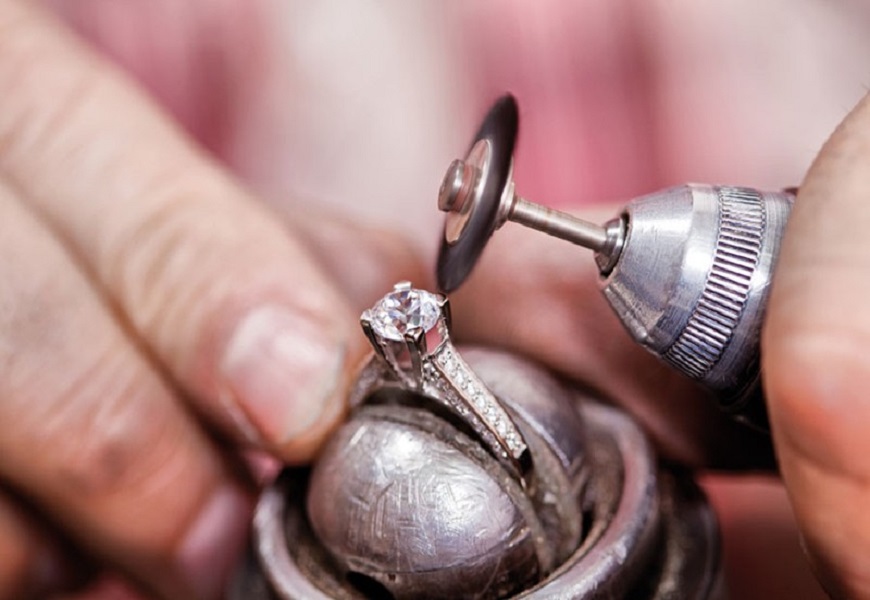 Spend on a household ultrasonic cleaner. Examples and costs
There are devices designed to remove contaminants from parts of mechanisms, jewelry, various tools, equipment. This eliminates the possibility of mechanical impact, destroys harmful microorganisms, and separates contaminants.
An example of such equipment is the SE-6200A S-Line model (price - 4800 rubles). The cost depends on the type of device. In addition, special agents for cleaning gold and other materials are additionally purchased. They can be included in the set, but are also sold separately from the equipment.
Use folk methods and modern tips
Hand-held methods are the easiest way to remove dirt. But it is necessary to use them with consideration: it is important to find the gold grade on the item, to know what kind of stone is planned to be cleaned. With this in mind, determine the appropriate technique for the treatment of jewelry.
To remove blackness from a ring, earrings or cross, certain foods (citrus, baking soda), chemicals are used.
Top 20 ways - how and what to clean gold at home quickly and effectively improvised means
Consider different methods, and you need to determine the speed of cleaning dirt (how urgent a task), the degree of aggressive effect on the product (the presence of organic, artificial stones).
Quick gold cleaning with extra compounds
If there is no time to wait for the selected active ingredients to work on your gold jewelry, you can use extra-medicines. And they work quickly, but without loss of quality:
boil in a solution of "Fae" with water: prepare a solution of medium concentration, for which use 200 ml of liquid, 1 tsp. detergent, this working solution is used to boil jewelry, but first you should put a rag at the bottom of the container, the duration of boiling jewelry - 10 minutes;
"Fae," peroxide and ammonia: more difficult dirt is removed by increasing the intensity of the impact on the metal (and introduce other components), for example, take 1 cup of water, 1 tsp. soap-based liquid, the same amount of ammonia, 40 mg peroxide - the material does not need to boil, just hold in it for 20 minutes;
soak for a short time in a solution of hyposulfite and water: to clean gold, prepare hyposulfite (2 tsp.) - this is a pharmacy substance, it is added to barely warm water (1 cup), without heating the solution, leave the jewelry in this container, the duration of exposure to the active components is 20 minutes.
Express methods are best used for Cleanup gold of a higher standard. There must not be any stones on the jewelry.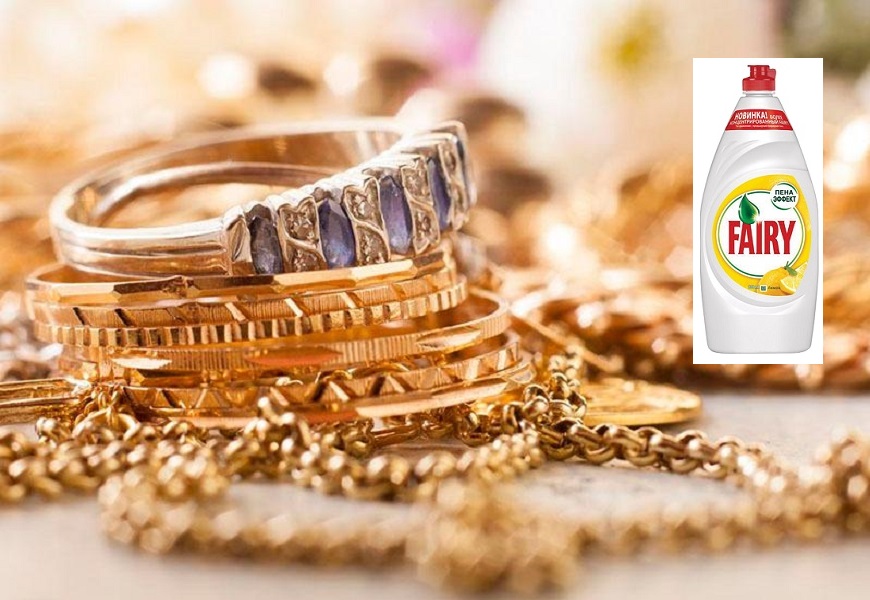 A thorough soaking approach
If time permits, use products that are not immediately effective. Soaking the dirt is easier to remove. Water-based and chemical-based solutions are used for this purpose:
dishwashing liquid with ammonia: the active ingredients are mixed in equal amounts - 1 tsp. each, dissolved in hot water, then drop the scratched rings or earrings into the liquid, but you have to wait at least 1 hour to wash them;
foil with soda: use 0.5 to 1 cup of water (depending on the difficulty of darkening gold) and 1 tbsp. of soda, bring the solution to a boil, put the foil on the bottom and leave the jewelry on top, and the liquid must be heated on the stove for 10 to 20 seconds;
concentrated brine: prepare 3 tbsp. of salt, this amount is dissolved in water (1 cup), and the solid fraction will dissolve faster if the liquid is warm, then immerse blackened gold in the container, it will be possible to wash it not earlier than 8 hours, and it is important to make sure that the salt is completely dissolved before applying the solution, otherwise grains will scratch the rings and bracelets.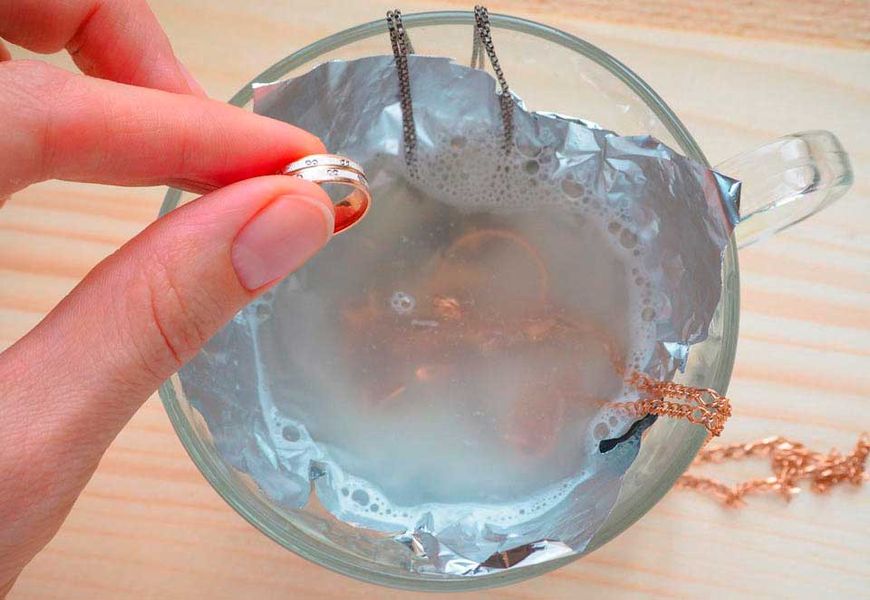 How to clean white gold without damaging the rhodium layer
White Gold is usually covered with a layer of Rhodium. Cleaning and polishing damages this layer, so more often than not you need to reapply it after all the procedures are finished. However, there are safer waysHow to clean gold. Even if you use them, the rhodium coating will not be scratched. Recipes:
ammonia and peroxide - the agent acts aggressively, refers to the concentrated, because it is not diluted with water, the recommended ratio of ammonia and peroxide is 1:2, the mixture is used to clean products from old stains, blackening, to remove the jewelry must be no later than 30 minutes;
Ammonia and shampoo: the recipe is similar to the previous one: take an equal number of components (1:1), but together with ammonia enter shampoo, such a mixture should be further diluted with water, jewelry soak no longer than 30 minutes, thanks to this they will shine;
sugar syrup based on water: the proportions of the components - 2 tablespoons of sugar and 200 ml of liquid, the product cleans jewelry for 3-8 hours.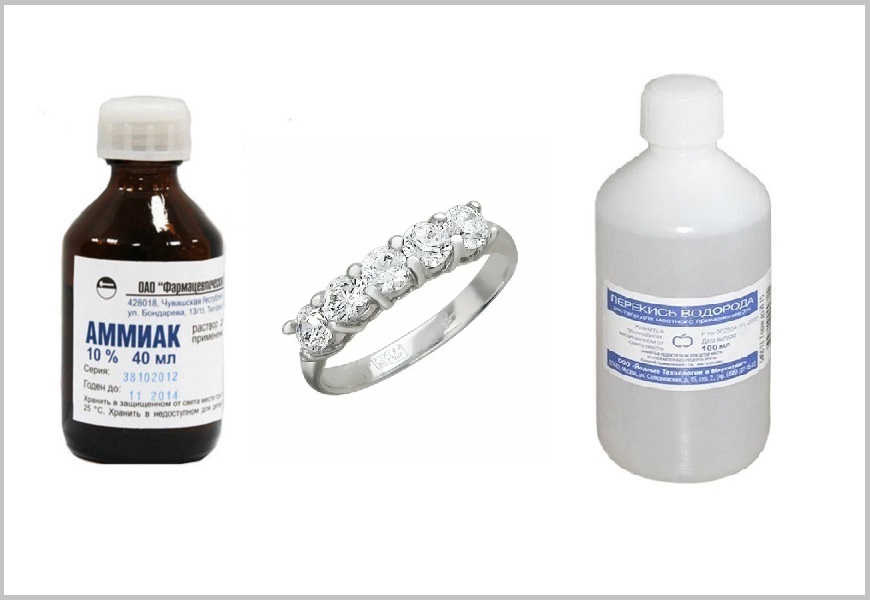 Gentle cleaning of products with stones
When deciding how to clean gold, pay attention not only to the speed of action of the remedy (how fast the result is obtained), but also to the properties of the inserts, if any. Organic stones can easily be damaged, so they are treated in a special way. In addition, not all hard inserts of rings can be cleaned with abrasive agents; even diamonds do not tolerate the influence of hard bristles. When choosing a cleaning solution for gold, you should take into account the peculiarities:
hard and soft stones, their preferences: to make such inclusions (diamond, fianite, garnet, topaz, emerald, crystal and raukhtopaz) shine you can use different means, and for soft (pearls, turquoise, malachite, coral, opal) the number of solutions, by contrast, is limited, in this case use potato starch, dry brushing method, and vinegar and other acid, ammonia, as well as abrasives are contraindicated;
universal soap solution: any amount of detergent is dissolved in water, this solution cleans well any jewelry (using liquid or laundry soap).
Frosted gold: chalk and ammonia for cleaning
When one chooses how to clean up gold items, first of all, consider the prescriptions:
ammonia (25%): a concentrate is taken, it can be used to clean products of different types, they are soaked for several hours;
lime: no more than 1 coffee spoon of the main active component, dilute the remedy with water to a pulp, then add salt (pinch), soda (1/3 tsp.), but the cleaner can be used not earlier than after 3 days - it must infuse, and the duration of soaking - no more than 4 hours.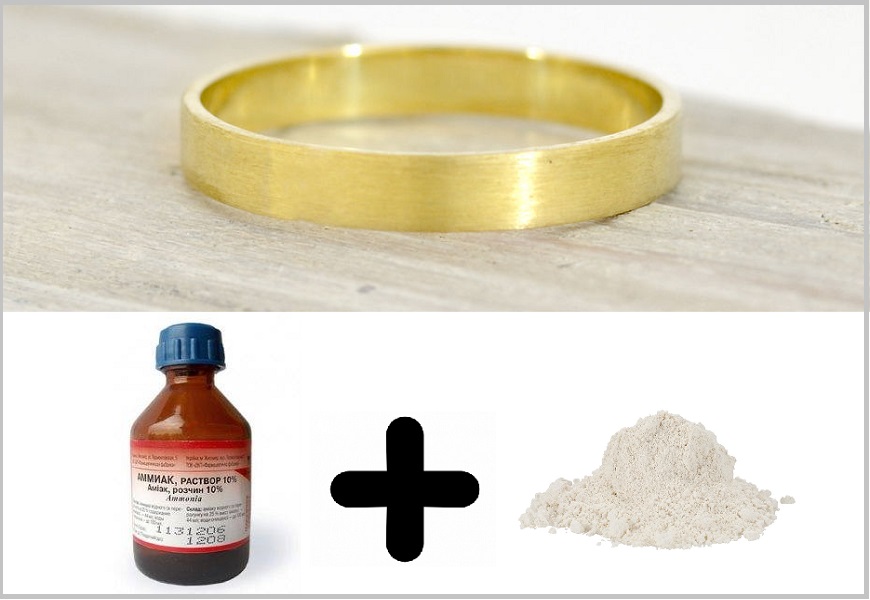 Grandfather's way and know-how of cleaning
If you have to decide how to clean gold earrings or a ring, you should consider that today old techniques are still used, quite a few of them, since they have been tested by years and people. However, there are also effective but modern remedies. You can wash gold jewelry using any of the following solutions to make it shiny:
soaking in vinegar, lemon juice or acid: when strongly soiled dip the item in a vinegar solution based on water (ratio 1:1), citric acid (1/4 tsp., 200 ml. water), lemon, but to immerse faded earrings and rings in the resulting means can be short-lived - for 5-7 minutes;
alcohol bath: prepare a water-alcoholic solution (ratio of alcohol and water - 1:1), in it clean jewelry, but not all, but mostly - with hard inserts, you can even soak the chain, etc;
cleaning with gasoline: moisten a rag in this substance, treat blackened metal;
toothpaste and brush: hard stones are easily cleaned with toothpaste, but without abrasive, in severe cases use tooth powder, products in this category are purchased without additives (paste and powder must be white, without dyes);
beer and egg: prepare a solution, it is used to remove contamination of varying degrees of complexity, if you want to make a bracelet or ring shiny, prepare 1/2 tbsp. beer, 1 chicken yolk - the resulting mixture is used for mechanical cleaning;
"Coca-Cola", "Pepsi": such drinks are not diluted with water, they use a concentrate, for soaking you need to allocate 2-3 hours of your time, but the means act aggressively, and therefore it is desirable to remove them from the container with Coke earlier;
lipstick: a small amount is applied to a rag or lint-free cloth, the lipstick is rubbed on the surface of the gold piece;
lens cleaner: do not dilute it, immerse contaminated items in the liquid, dried particles of dust and grease gradually dissolve.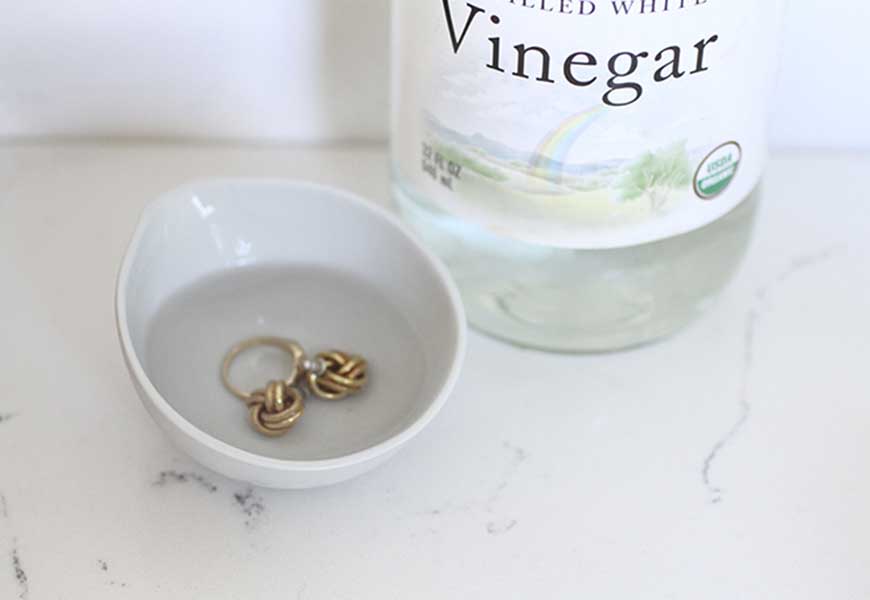 How to easily polish gold to a shine and how to prolong it for a long time
Deciding what to clean gold in at homeThe polish, not just the dark areas, and the clouding of the stones are taken into account. To restore the product, return it to its original properties, it is necessary to use special products for polishing. They should not contain coarse or even medium-sized abrasives. This will cause the gold ring, bracelet or other jewelry to be scratched. It will be difficult to restore it. So, the question of how to clean gold with baking soda, preparing a pulp in water, should not be asked in the context of performing polishes safe methods:
Vinegar: moisten a rag and begin to grind the surface, but this method has limitations: it is not used to restore items with soft stones;
Eraser - removes surface dirt, does not contribute to the elimination of stone clouding;
Flannel cloths, felt, velvet material - all types are theoretically used for grinding precious metals, but the cleaning procedure is long;
Onion: it is cut in half, no need to chop more, for the purpose of polishing take one half of the onion, grate gold chain Or a bracelet;
prepare a remedy from toothpaste, chalk, shavings of laundry soap, and petroleum jelly - the components are used in equal proportions, add water (small volume).
Video: How to clean gold jewelry fast at home
Tips of the people
I clean gold jewelry in my home without stones. I am not experienced in cleaning sophisticated jewelry, so I would not risk putting toothpaste or other substances on the stone. Such fear has appeared when I spoiled a ring with zirconium. I decided to brush it and polish with alcohol, after which the item lost its properties.
I discovered a combination of remedies. I alternate methods: toothpaste and boiling in a baking soda solution with foil. The first method clogs all the cracks and leaks, but the ring looks nice afterwards. The second remedy, baking soda, works fast, but I often meet information that it is not recommended for items with stones.
Jeweler's Recommendations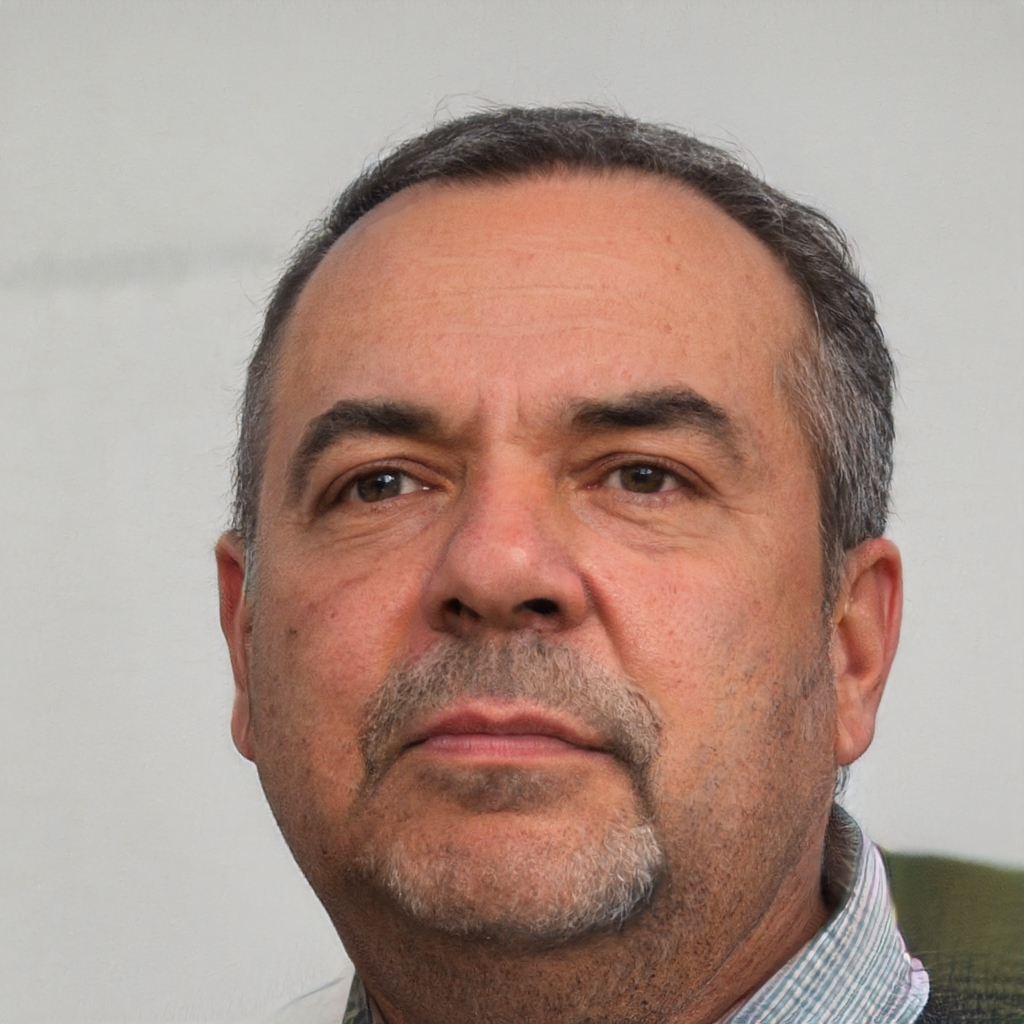 Molokanov N.M.
Jeweler, experience in jewelry manufacturing 26 years.
The same rules should be followed for jewels inlaid with stones and varieties without additional inserts. For example, if you take a diamond, it should be resistant to various factors. In fact, the stone is fragile; if it falls on the floor, it will be damaged. And therefore, it is better to put aside the brush, dry coarse powders.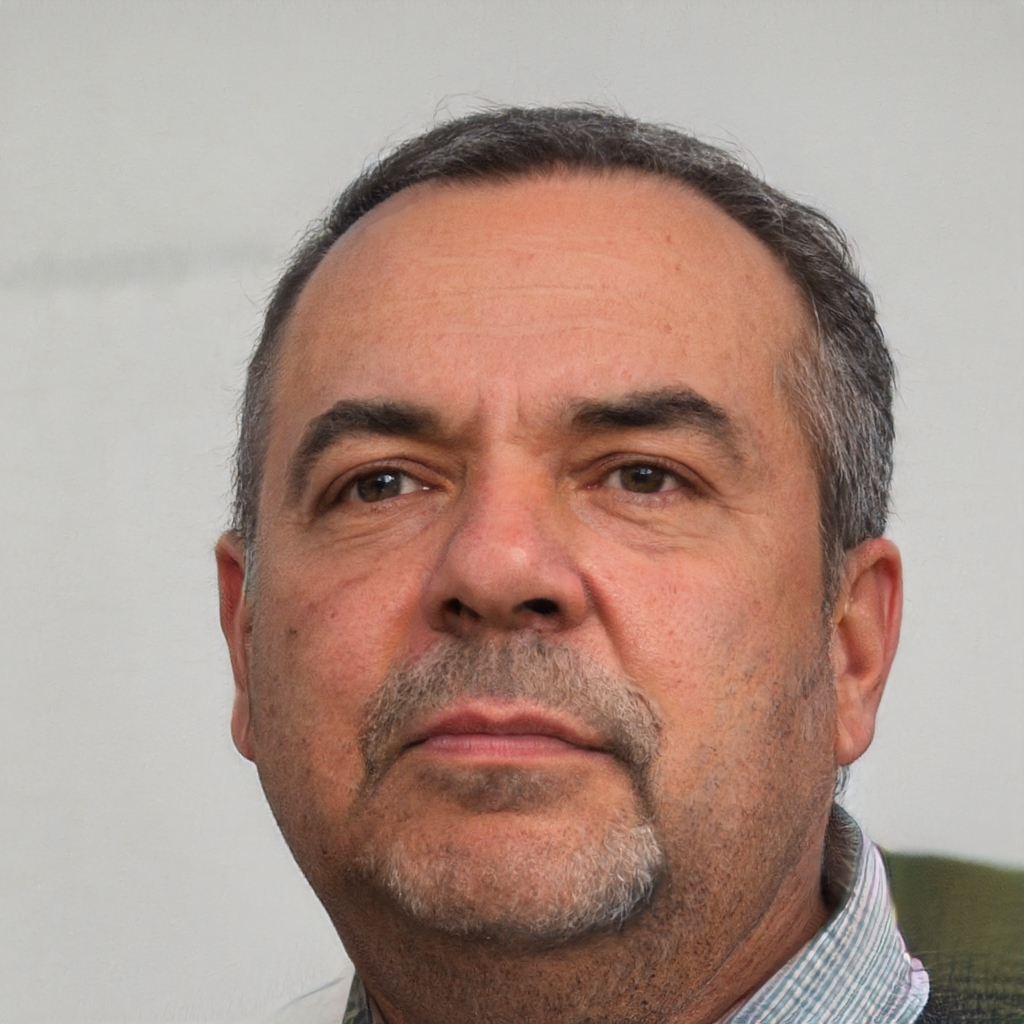 Molokanov N.M.
Jeweler, experience in jewelry manufacturing 26 years.
When we clean gold at home, there is no doubt that a decent result will be obtained. However, the frequent use of unsuitable agents causes thinning of the soft metal and the formation of irregularities. These changes are initially imperceptible, but only after a while will you see the real picture: mounts become loose, the surface of the metal is distorted, and the stones become muddy. That is why it is necessary to decide on the cleaning technology at the first stage.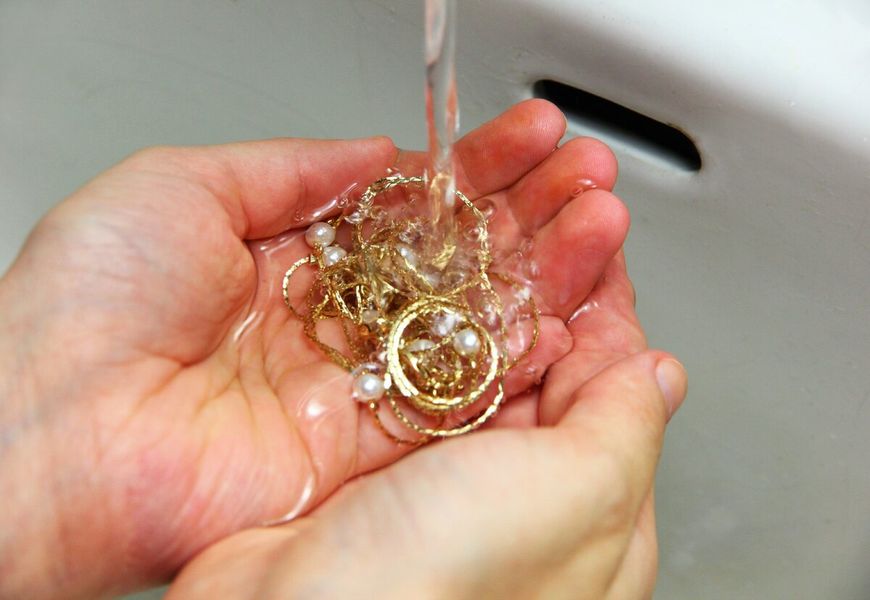 Question and answer section
What to clean gold jewelry at home if you do not have time to do it?
Opinion of an expert
Mikhail Petrovich Grishanov
Jeweler, Director of Grishanov & Co.
Many of the recipes for quick recovery contain dish detergent. The result is obtained in minutes. You can also consider an alternative option - the boiling method: throw baking soda on foil in a metal dish (preferably enameled) with boiling water, the whole procedure takes 10 seconds.
How to quickly clean gold from the black at home?
Opinion of an expert
Pribrezhny Gennady Valentinovich
6th class jeweler
The gentlest method is soap-based liquid. Suitable for a variety of jewelry: gold, silver. But soap does not always cope with dirt. In such cases, household chemicals help. The most popular: ammonia (or ammonia) and peroxide. The mixture is diluted with water, applied to the jewelry with a rag, then polish it or soak it (the duration of the procedure depends on the complexity of the dirt). But this method is not used to restore the attractiveness of jewelry with stones.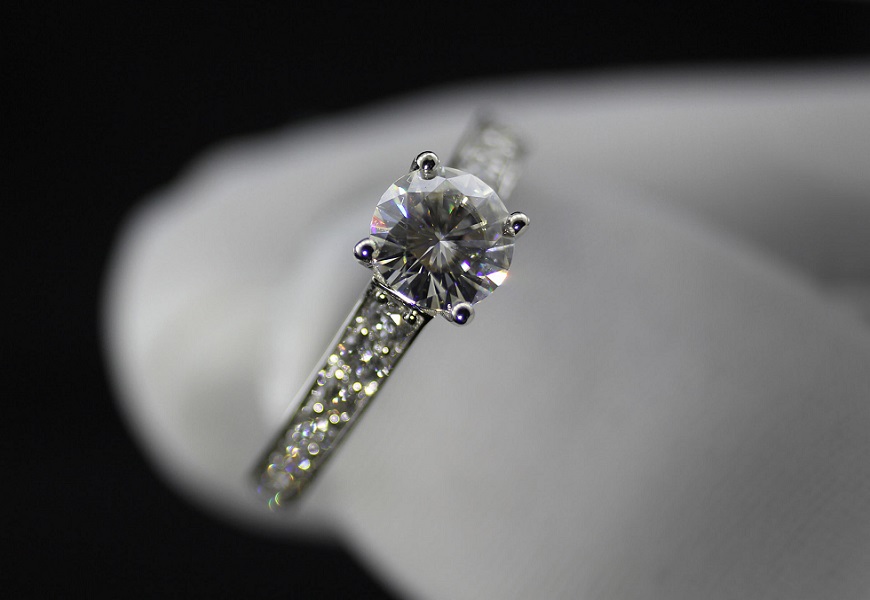 How to clean gold earrings at home quickly and effectively?
Opinion of an expert
Mikhail Petrovich Grishanov
Jeweler, Director of Grishanov & Co.
If the dirt is uncomplicated and, in addition, it is necessary to restore the properties of the jewelry in a short time, you should use toothpaste (provided that it does not contain abrasive components), salt solution or water sweetened with sugar. These are the most simple, but at the same time effective methods.
How to wash jewelry with a stone?
Opinion of an expert
Pribrezhny Gennady Valentinovich
6th class jeweler
A bracelet or ring that can be cleaned must be able to withstand harsh environments. For example, organic stones cannot withstand acids, ammonia, and abrasives. In such cases, it is better to prepare a solution containing soap as the main component, or a dry rag (used for mechanical cleaning).
Is it possible to clean gold at home with peroxide-based liquid, what are the safety precautions?
Opinion of an expert
Mikhail Petrovich Grishanov
Jeweler, Director of Grishanov & Co.
Complex stains (we are talking about persistent plaque, not rust, iodine stains) are removed by means of medium aggressive agents, for example, use a solution based on peroxide. Such methods are suitable for rings and bracelets without stones. When mixing the components (with ammonia or baking soda), volatile components are released, so leave the jewelry in a container with such a liquid only under a lid, and the room must be well ventilated.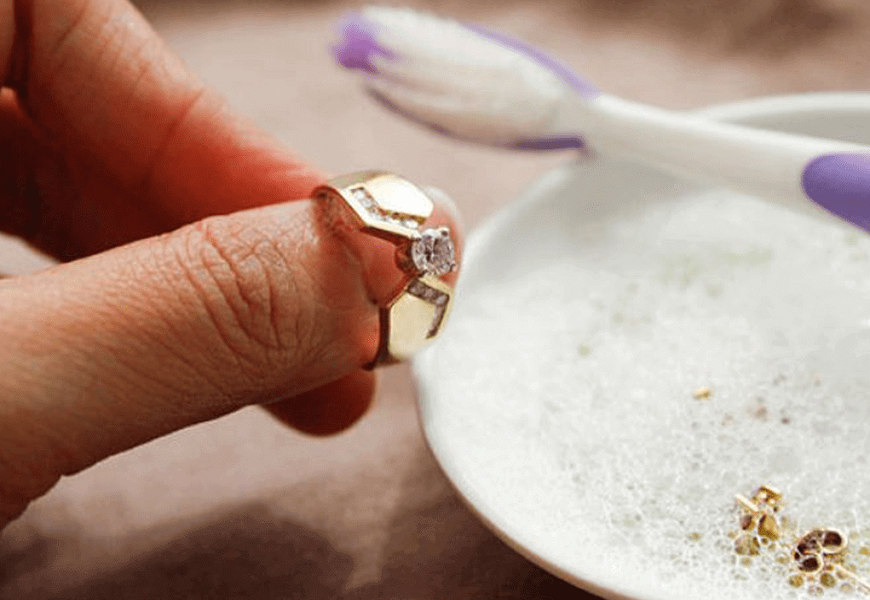 How to clean gold rings
Opinion of an expert
Pribrezhny Gennady Valentinovich
6th class jeweler
Different cleaning products are suitable for jewelry: professional and household household cleaners. The choice is made taking into consideration the state of the metal and the type of stones. Rings lose their appearance faster than other jewelry, as they are often exposed to mechanical stress, which is why you should choose products that are mild but effective for frequent use. Toothpaste, saline solution, soda with boiling water and soapy liquid will do.
How to clean gold rings with a stone from the dirt?
Opinion of an expert
Mikhail Petrovich Grishanov
Jeweler, Director of Grishanov & Co.
To return properties of metal after influence of another's negative energy, it is enough to wash the scratched jewelry under water. If the ring, earrings are stained in dirt or particles of dust and grease have accumulated on the items, you must first soak them in a special solution. After that, the jewelry is cleaned with a soft toothbrush and a rag.