The most common is yellow goldThe following is a very popular white. It is an alloy of a special composition, thanks to ligature takes on a completely different hue. The additives change the color from yellow to white. The properties of this metal allow it to be used for various purposes, among which jewelry is in demand.
White Gold surpasses many other varieties of precious metals in strength and attractiveness.
There are different versions of compositions, which determines the performance and cost of products.
White gold - what kind of metal is it, what is it called, what does it look like: natural and synthetic
Gold is called white gold, which is a jewelry alloy composed of precious (and sometimes non-precious) metals. The ratio of additives determines the properties of the finished product as well as its hue. A substantial portion of the material is gold. But under normal conditions, it is characterized by its yellow color.
To change the shade, palladium and other platinum group metals, nickel, etc. are added to the alloy. These are metals of a lighter shade (gray-white, white), when combined with the main component, an alloy with the desired parameters is obtained. It is called white gold.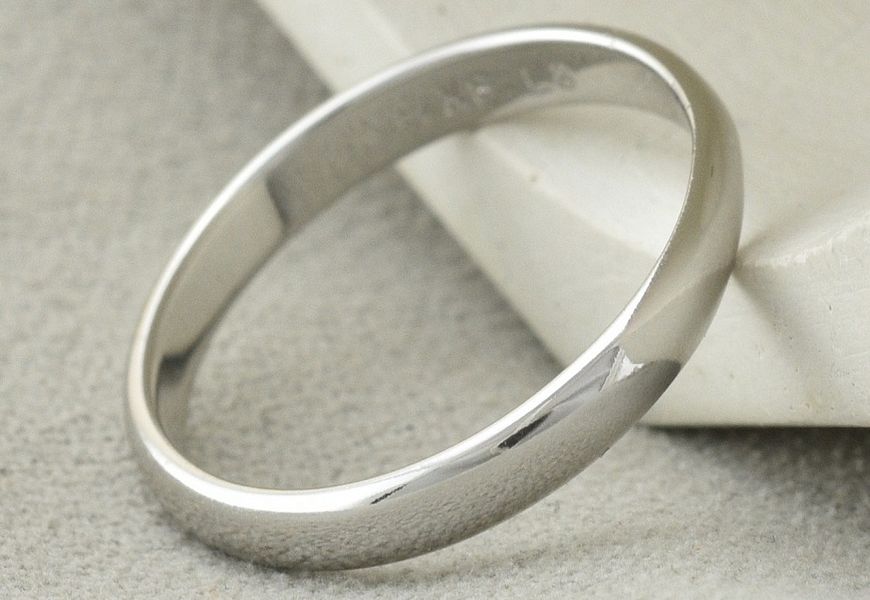 Today, a valuable alloy is produced artificially - from several metals by melting. But white can also be called a natural material. It is a mineral formation, a kind of native gold. In nature, it is found mainly as a dendritic, liquid.
Its main characteristic is its light yellow or white color. It is electrum, but can also be called white gold. It contains precious metals. It usually contains two kinds: silver and gold, and this determines the color of the mineral. And the silver content is always different, ranging from 16-69%.
History of white gold and its popularity
The alloy called white gold first appeared at the beginning of the last century. It replaced silver and platinum. The first of the metals was inferior to the others in external properties, in addition, it tended to oxidize.
Platinum is a refractory metal, and is also more expensive than gold and silver.
White metals were popular because they reflected the brilliance of gemstones better. The jewelry houses could not refuse to use them, but at the same time there was a need to use a more appropriate material. This was when an alloy based on gold and white ligature was developed.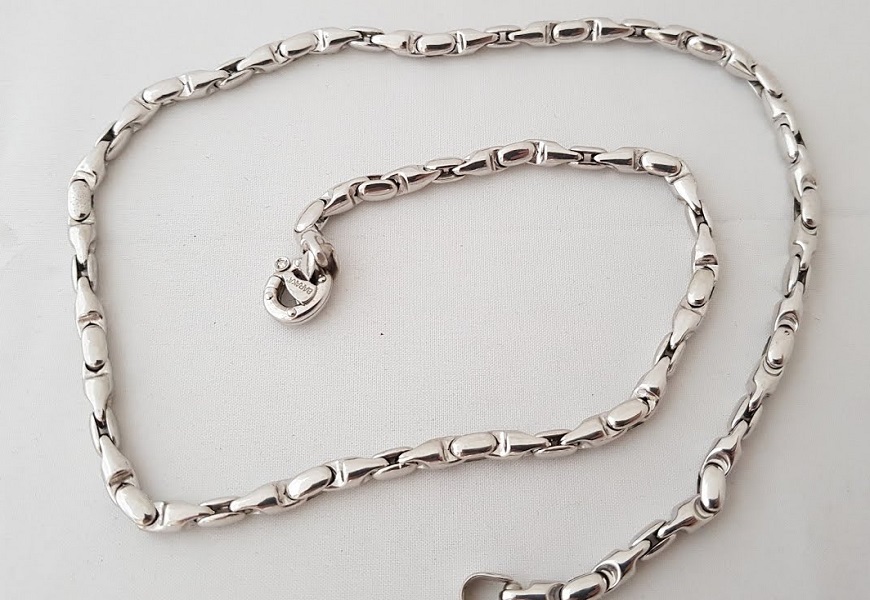 White gold: production process, alloy composition and characteristic properties. The ligature responsible for the whiteness of the alloy
Gold alloy of white color is multicomponent. For its production, it is based on a technological process that is implemented in stages:
Gold is melted first. The metal is sent to the crucible. The melting temperature of gold is set to 1100°C.
The other components are consecutively sent to the crucible next, but the temperature is raised beforehand. Considering that most often one of the platinum group metals is included, the melting temperature has to be much higher (up to 1600°). The components are stirred all the time so that the alloy is homogeneous.
Metal is poured into the molds.
Interesting: Despite the name of the alloy, the color of white gold can be different, it varies from pale yellow to steel, silver, which is due to the ratio of components, but if the product is covered with rhodium, you get a more noble tone.
Jewelry factories have their own secrets for producing white gold. However, there is GOST 30649-99, which defines the composition of this kind of metal depending on the assay. As a result, the alloy may differ in properties. In terms of characteristics, it simultaneously surpasses yellow gold and platinum. It combines the best properties of each of these precious metals. For comparison, platinum is a hard but refractory material; you can't make a piece of jewelry with its original design. The yellow precious metal is softer, though more ductile.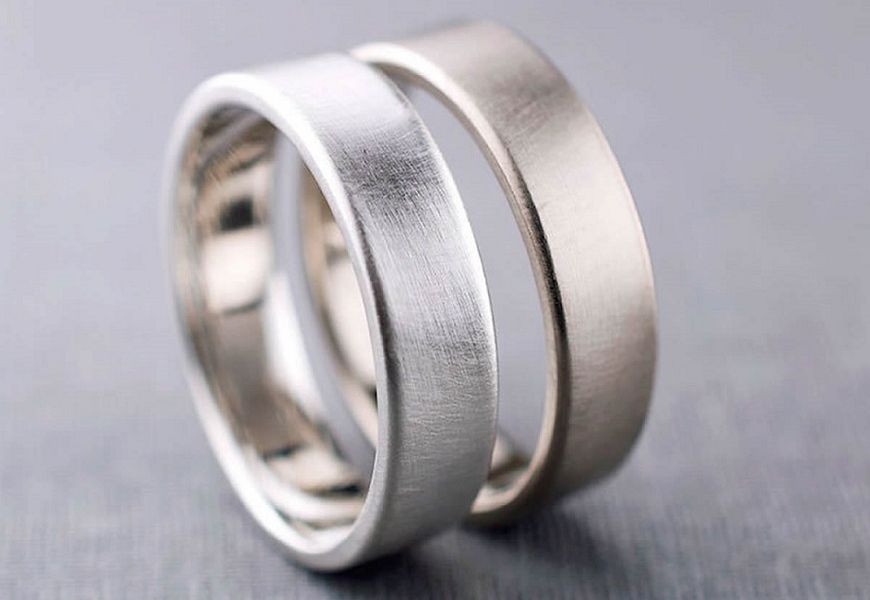 Properties of white gold:
is a fairly strong metal;
rugged;
malleable;
resistance to moisture (no risk of corrosion);
good tolerance to exposure to other chemicals.
To get an idea of the properties of the metal, you need to study the properties of the ligatures. White gold is often composed of:
Platinum: an expensive high-strength precious metal, characterized by a white color with luster; it discolors the alloy better than others, but contributes to its appreciation;
Silver is soft, inferior to other metals in appearance (oxidizes quickly), but enhances the properties of palladium;
Nickel: a metal from the group of non-precious, has a significant mass, it is also malleable, easy to forge, but over time, the addition of this component is dangerous to health, the metal is not recommended for the manufacture of jewelry, in contact with the skin products made of gold with nickel can cause allergies;
Palladium: representing the platinum group, characterized by plasticity, more affordable precious metal than platinum, and relatively heavy;
Zinc: brittle, brightens the alloy, but also helps to lower the melting temperature;
Manganese: tough, gray in color, with high hardness;
Copper - adds a subtle rose-golden hue;
indium - in small quantities it strengthens the hardness of the alloy, gives strength, increases wear resistance;
cadmium is soft and malleable.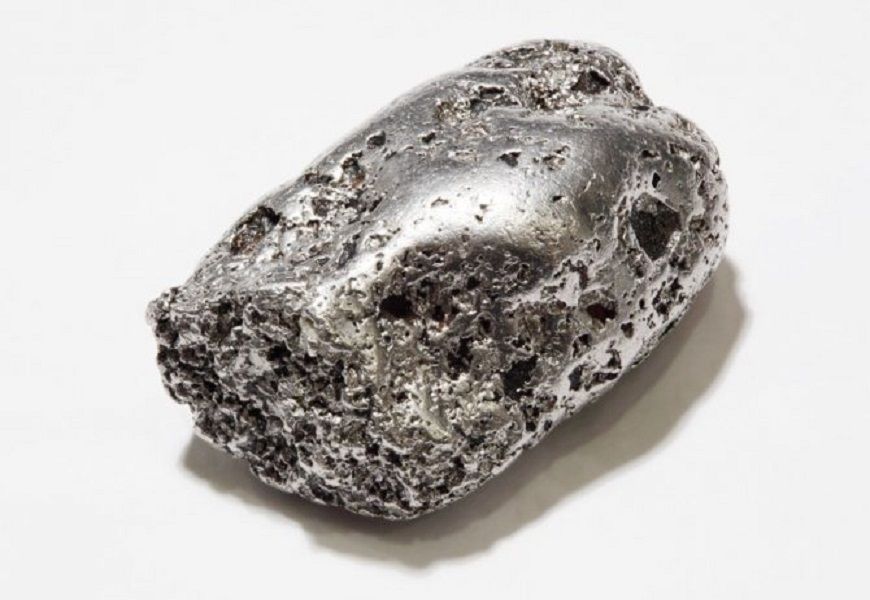 Possible compositions of gold alloy samples according to GOST
The ratio of components is different, even if the same amount of gold is taken as the basis. This makes it possible to change the color and the properties. The most common grades of white gold are: 585 and 750. This can mean that the composition includes, respectively: 58.5 and 75% of the base precious metal. All other components:
| Gold | Palladium | Platinum | Silver | Zinc | Nickel | Manganese | Cadmium |
| --- | --- | --- | --- | --- | --- | --- | --- |
| 585 | 160 | — | 255 | — | — | — | — |
| | 100 | — | 287 | 28 | — | — | — |
| | 100 | — | 280 | — | — | — | 35 |
| | — | — | — | 4 | 12,5 | 398,5 | — |
| | — | — | 80 | 2,5 | 8,2 | 324,3 | — |
| 750 | — | — | 150 | 92,5 | 7,5 | — | — |
| | 150 | — | 100 | — | — | — | — |
| | — | 90 | 80 | — | — | 80 | — |
| | 140 | — | 90 | — | 20 | — | — |
| | 140 | — | 70 | — | 40 | — | — |
| | 85 | — | 90 | — | 4 | — | 71 |
| | — | — | — | 2,4 | 75 | 240 | — |
By comparison, there is no such thing as 925-proof white gold. This is the designation of silver.
White gold applications: 375, 500, 585, 750
There are several variants of white precious metal, among which there are those that represent the low, medium and high price category. You can determine the quality by the composition - the grade. There are:
375: The most accessible alloy, contains a minimum of precious metal (37.5%), the rest is budgetary additives (usually used silver), the metal is sometimes used in the manufacture of jewelry and only some kinds of them, more often it is used for the manufacture of fasteners inserts different products, the production of cigarette cases, watches;
500: Gold is used infrequently because of its low fusibility, suitable for the production of eyeglass frames, various decorations, watches, often used to verify the authenticity of products, involved services of the assay office;
585: a universal material, considered the best in its price category, suitable for the manufacture of various jewelry;
750: Gold of high purity and excellent quality allows you to create jewelry, but finished products are inferior to the properties of jewelry 585, as unstable to mechanical damage.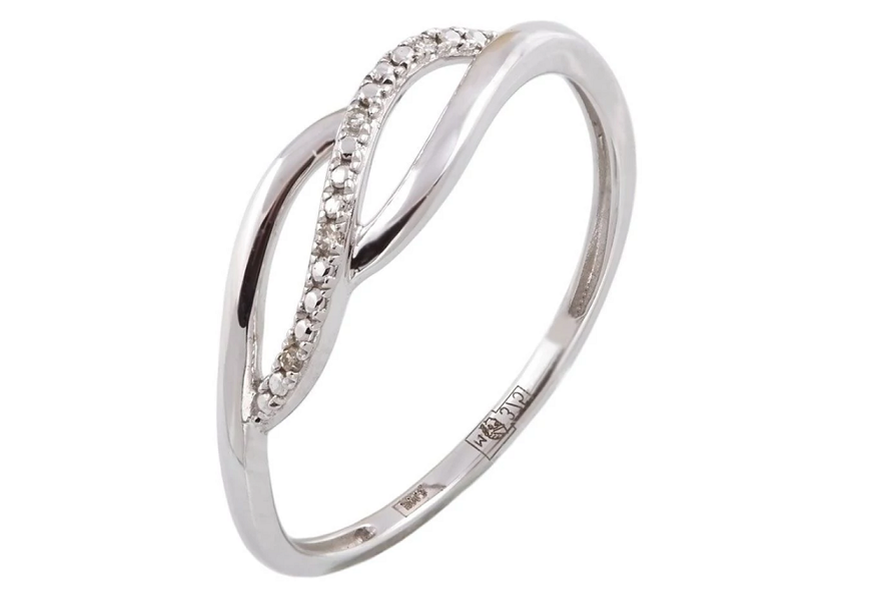 A wide assortment for any occasion: white gold assay for jewelry
When choosing white gold jewelry, the assay is studied first, because it is the determining factor that allows you to evaluate the quality of the product. In order to make jewelry, the properties of metals and external characteristics are taken into consideration. As a result, it is possible to obtain improved products. White gold jewelry comes in a variety of forms:
375: The most common are the production of large size decorative elements for jewelry from more expensive items, as well as wedding rings;
500: Difficult to melt, not used to make jewelry;
585Gold of this standard can be used to make a variety of jewelry, such as rings, bracelets, earrings (pousettes or "carnations", "congo", with a French lock, etc.), pendants, chains, and, of course, sets (sets of earrings, rings, pendants), pendants, etc;
750: produce jewelry most often with stones (women's, men's), such as diamonds, fianite, etc. - precious and semi-precious stones.
In the manufacture of jewelry, the preference is given to products 585 and 750.
And they can be coated. Such jewelry is protected from mechanical damage. Most often, rhodium is used. It gives a more noble shade to the jewelry.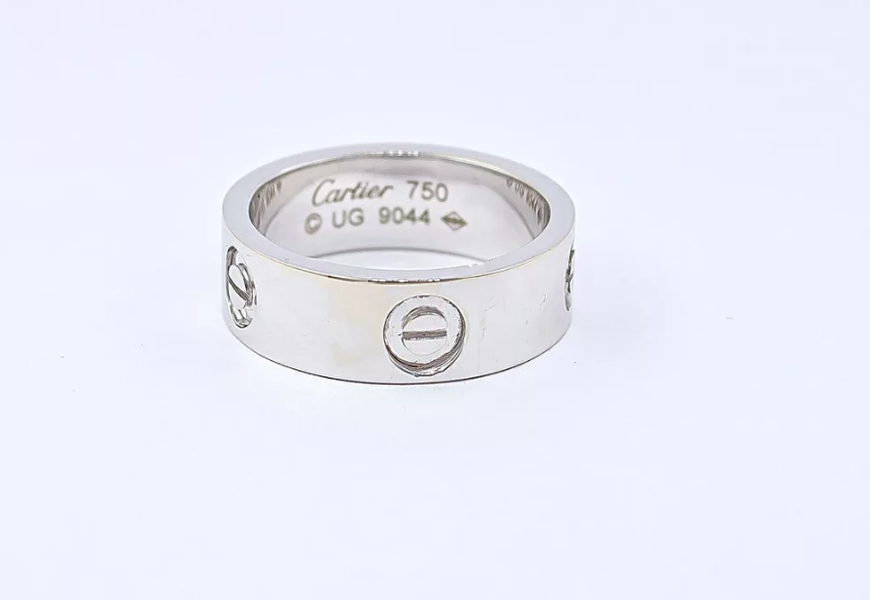 Compatibility with precious stones
Jewelers have long known that a white backing strengthens the reflective properties. Even semi-precious stones will show up in a better light, which is important if one has decided to sell the piece, to get a good price for it. This may mean that the jewelry needs to be presented properly. The stone will look more attractive if it has a white metal setting.
It used to be fashionable to use silver for this purpose. Later, platinum. Ever since the advent of gold alloy whiteIn Russia, jewelry factories often use this metal in combination with inlays. In Russia, jewelry factories often use this metal in combination with inlays of stones:
diamond (white, colored);
emerald;
grenade;
pearls;
topaz;
sapphire.
Recommendations for choosing a white metal product
Regardless of what kind of jewelry you plan to buy (white gold rings, church "save and save" rings, earrings, bracelets, etc. are considered), you need to consider factors:
Availability of documents - certificates confirming the quality: if the sales network is large, there is no need to ask additionally to show proof of quality products, in other cases, you should make sure that there are all the necessary documents, the seller is obliged to show on demand;
Comminution: today, most often found in stores are items of 585, 750 carat, the price depends on the content of precious metal, if the jewelry consists mainly of ligature (375, 500 carat), the cost will be lower;
External signs: gold has a white color (steel, with luster), but if done rhodium-plating, it will be harder to distinguish the silver from the gold alloy, you can check at home - by the sound (jewelry 585 and 750 tests sound like crystal).
Important! In Russia, there is no way to return purchased jewelry, it is realistic only under one condition - the product has a defect, which the seller was silent about.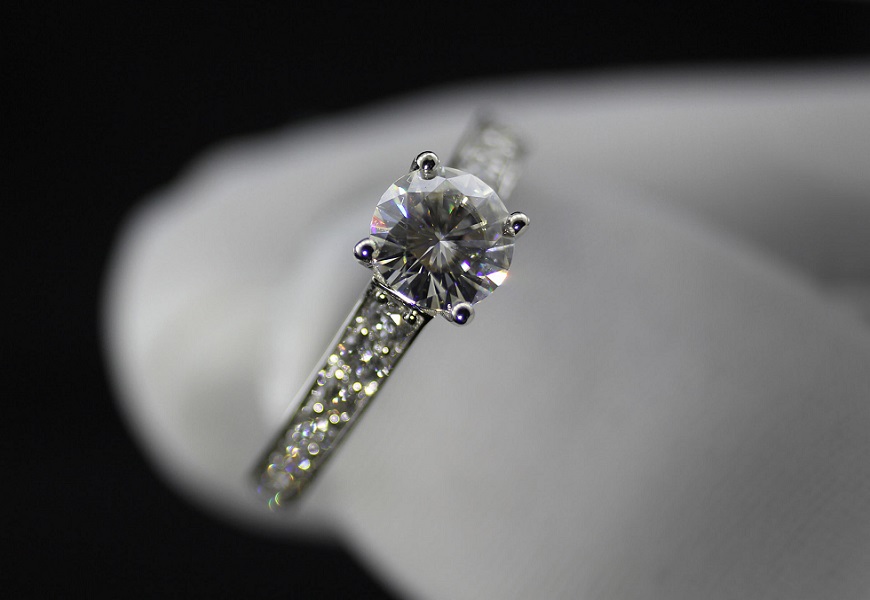 The functions of rhodium plating with a precious metal layer
Chemistry makes it possible to refine metals, to make them more resistant to negative external factors. To do this, the melting method is used, creating a coating, which must be done in accordance with the technology. Knowing what is the assay of white gold, seeing the protective layer of rhodium on top, you can not doubt the quality of the jewelry. There are several reasons for rhodium plating.
Scratch protection layer
A high-purity precious metal will not last long if it is made by combining a large quantity of gold and a small quantity of alloy. It must be made up of a larger proportion of various additives in order to become stronger, but then the jewelry will lose its value.
Nowadays, the only way to keep your jewelry as long as possible has been developed and is often used. We are talking about a protective coating.
Giving the perfect white shade and luster
Rhodium is a precious metal with a noble luster. Rhodium plating can be used to enhance the appearance of many different kinds of jewelry. But be aware that even the most beautiful white diamond ring or other rhodium-coated piece of jewelry can lose its luster and become scratched, as the outer layer does not last forever.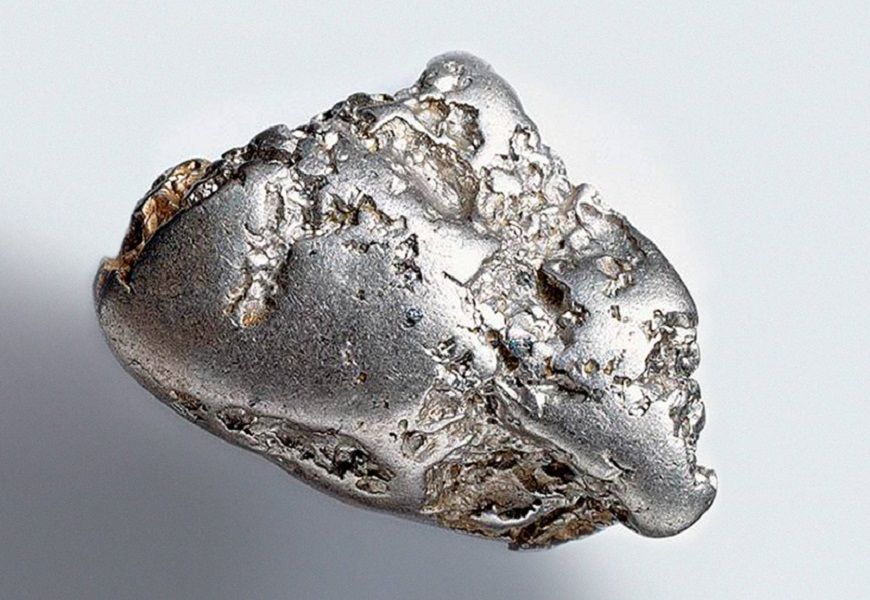 Cheapest way to make
Jewelry can be made of inexpensive materials (silver, nickel). If they are coated with rhodium, it will be difficult to find differences in appearance from items created from a white gold alloy.
This trick is used quite often, so you should pay attention to other signs.
The main differences from silver and platinum
When comparing different materials, it only seems impossible to see the difference. In fact, it is quite realistic to determine the type of product yourself. This does not use magical rituals, to be guided by omens also do not have to. It is enough to study the signs:
The shape of the mark: on silver items can be seen as a barrel, with the hallmark in it, on platinum jewelry - an octagonal shape, in jewelry made of Au metal - a rectangle;
sterling silver (800, 830, 875, 925, 960) and platinum (850, 900In this case, the probability of repetition is much higher, which means that there cannot be two identical silver or platinum items with the same hallmark - they are always different;
Gold items (yellow in color) coated with rhodium gradually darken as the protective layer wears off, platinum jewelry does not have this feature, and silver even oxidizes over time.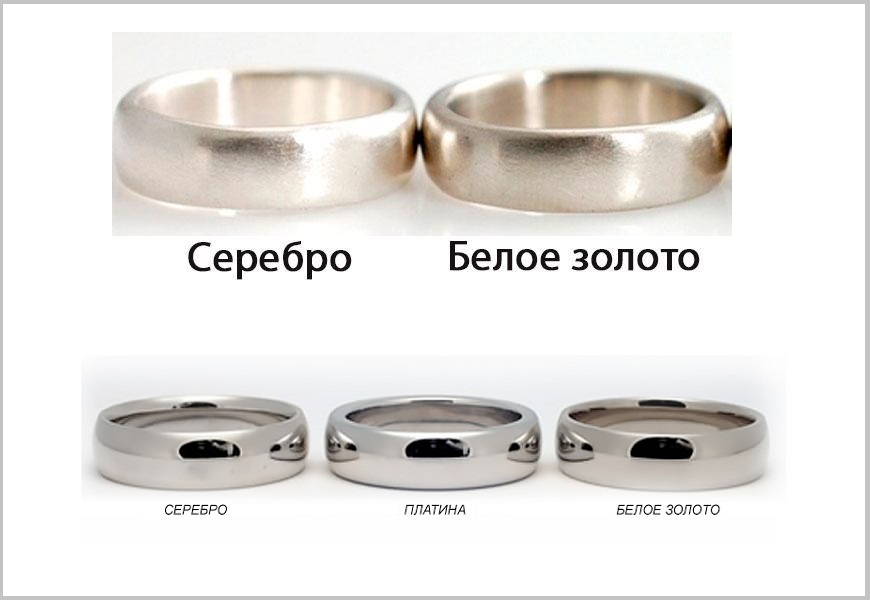 How and where you can buy real white gold alloy. Actual cost of 1 gram of white gold
First of all, you should consider large stores to buy jewelry. It is necessary to find out in advance what are the hallmarks of white gold. If the city is small, consider small jewelry stores, if possible, you should avoid pawnshops, because in this case, the price may not correspond to the quality, and the composition - very different from what is stated. Below you will find stores where you can buy white jewelry:
| Title | Price, rubles. |
| --- | --- |
| Adamas | 10-100 thousand. |
| Sokolov | 8-360,000. |
| Moscow jewelry factory | 1,100-195,000. |
The price of white precious metal per 1 gram (750 proof) is constantly changing. Current prices for March-April 2021:
| Date | Price, rubles. |
| --- | --- |
| 24.03 | 2740 |
| 26.03 | 2730 |
| 30.03 | 2680 |
| 01.04 | 2710 |
| 07.04 | 2743 |
| 09.04 | 2760 |
| 13.04 | 2730 |
| 15.04 | 2760 |
| 19.04 | 2825 |
| 21.04 | 2818 |
| 23.04 | 2820 |
In addition, you need to consider the cost of the Central Bank, the market, for scrap:
| TSB (999 proof) | Market price of the sample | Scrap |
| --- | --- | --- |
| 3899 rubles. | 2924 | 2631 |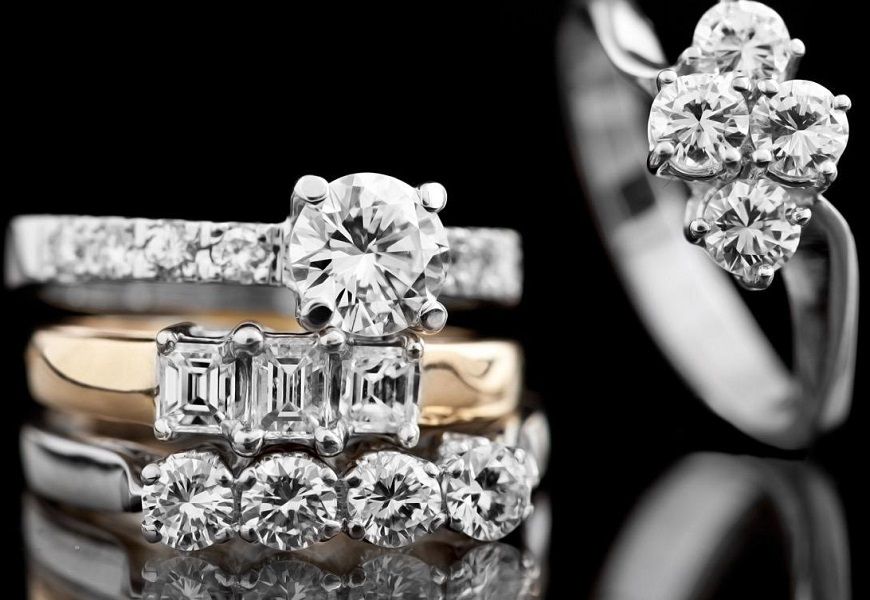 Jeweler's comment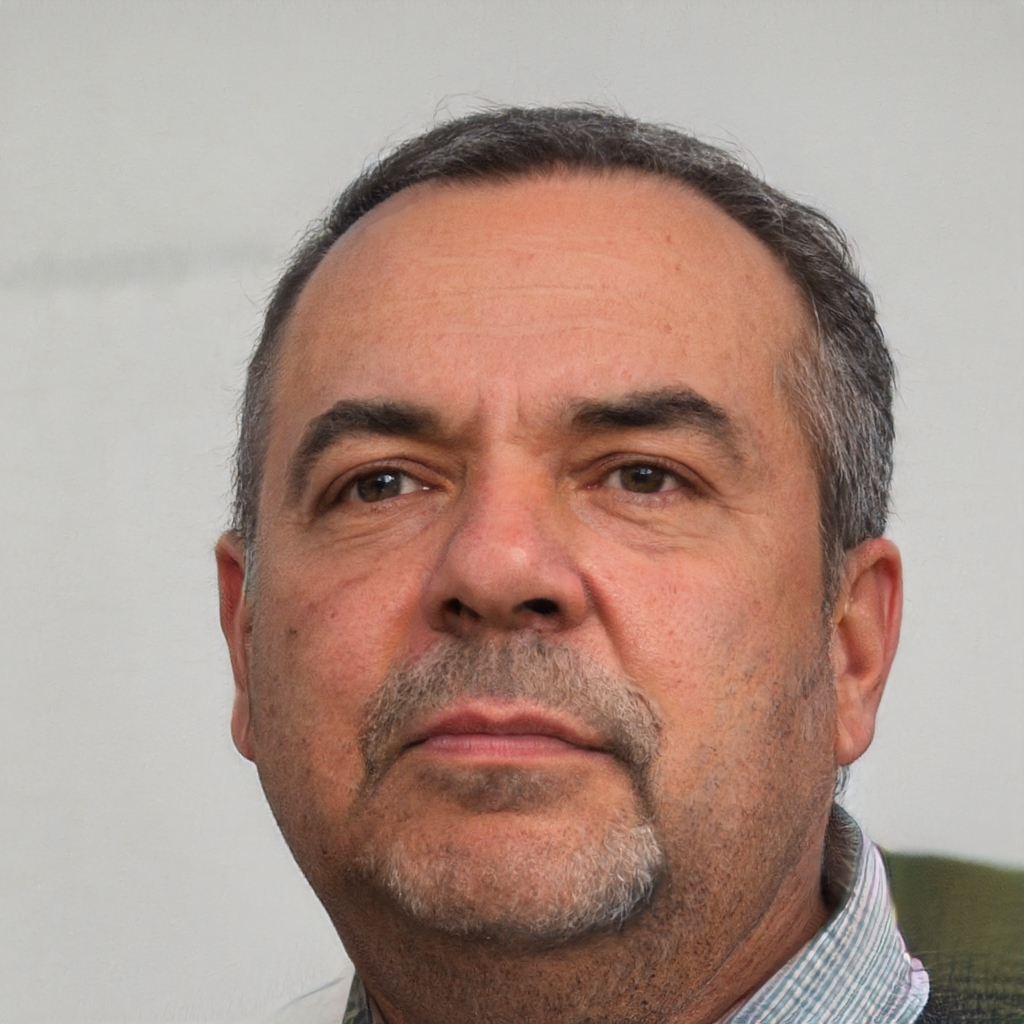 Molokanov N.M.
Jeweler, experience in jewelry manufacturing 26 years.
In addition to the basic signs of jewelry quality (sound of falling on the glass, color, weight), you can be guided by price. This is an indirect factor and cannot be taken as the main one. However, most often low-quality pieces or fakes are sold at low prices.
Excellent characteristics and disadvantages of white gold
Positive qualities:
nobility of appearance;
sufficient strength;
compatibility with stone inlays.
The disadvantages of products made of white gold alloy are many:
high price;
gradual damage to the surface;
585-carat jewelry goes dark;
If rhodium is applied, it needs to be restored periodically, as the surface layer tends to thin and scratch.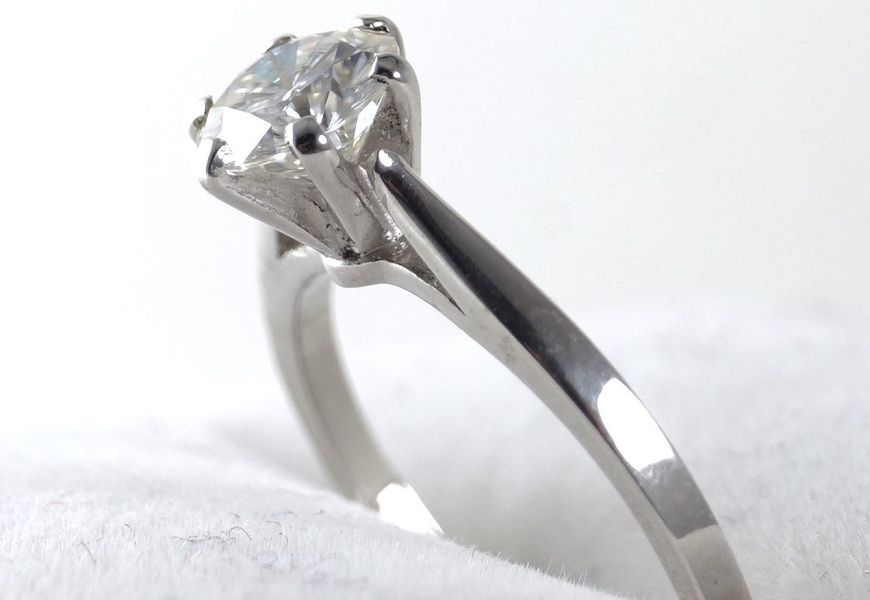 Subject: Q&A
I'm choosing a white gold ring. With which stone will it be more unpretentious to wear and care for?
Opinion of an expert
Pribrezhny Gennady Valentinovich
6th class jeweler
The white gold alloy is sufficiently resistant to external factors, but the jewelry is not the best withstand intensive use, as it is prone to the appearance of minor scratches. If the jewel is with inlays, you should double your caution. It is better to choose jewelry with harder stones: diamond, topaz, emerald, garnet.
Tired of old white gold earrings with zirconium. Where can I sell them at a higher price?
Opinion of an expert
Mikhail Petrovich Grishanov
Jeweler, Director of Grishanov & Co.
You should consider legal entities as a buyer: pawnshops with a good reputation, as well as jewelry stores that from time to time conduct promotions - they buy up old items and offer a discount on new ones in return. Individuals are unlikely to offer a higher price.
Are there watches made of white gold? How practical are they? I've heard that the metal is soft.
Opinion of an expert
Pribrezhny Gennady Valentinovich
6th class jeweler
White gold 585 is characterized by its durability. You can wear such jewelry often; the composition includes platinum, which increases the resistance of the material to mechanical damage. Gold 750 is softer; such items should be worn less often, alternated with others, or worn to celebrations.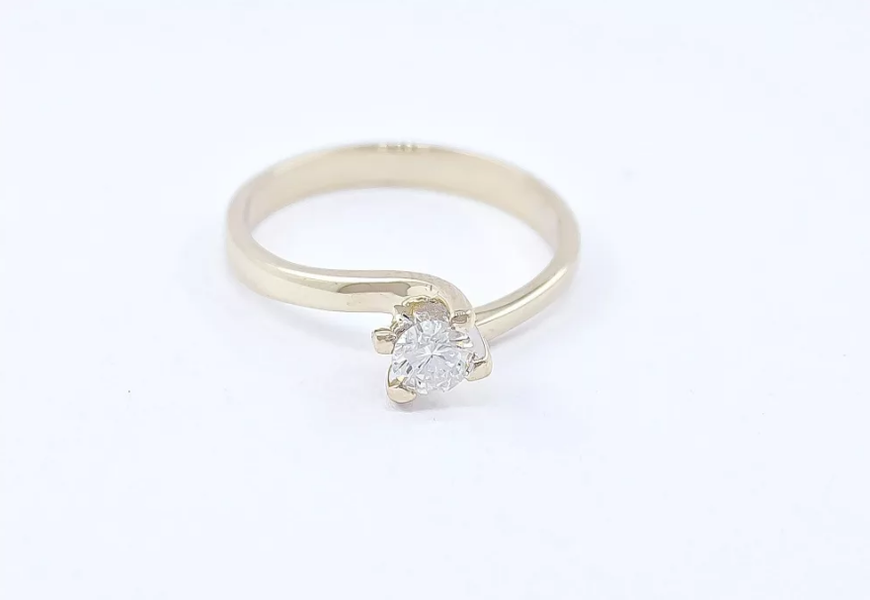 Can I wear a cross around my neck made of white gold instead of silver?
Opinion of an expert
Mikhail Petrovich Grishanov
Jeweler, Director of Grishanov & Co.
There are no restrictions on the use of crosses of different precious metals. Religion does not forbid the wearing of articles of platinum, gold, silver, and white alloy.
Can I wear white gold with silver at the same time?
Opinion of an expert
Pribrezhny Gennady Valentinovich
6th class jeweler
Designers of jewelry houses do not forbid it; on the contrary, they recommend combining jewelry. But they should be properly balanced so that the arms and shoulders are not visually overloaded.
What kind of metal is stronger: 585, 750 or 925?
Opinion of an expert
Mikhail Petrovich Grishanov
Jeweler, Director of Grishanov & Co.
If it is important to choose a hard-wearing gold alloy, you should consider 585 proof jewelry. By comparison, 925 is all about silver jewelry.
Does white gold exist in nature?
Opinion of an expert
Pribrezhny Gennady Valentinovich
6th class jeweler
Only one type of natural formation (electrum) is called white gold. But this is a conditional name, as it is characterized by an irregular white color. There are also light yellow native inclusions of this species.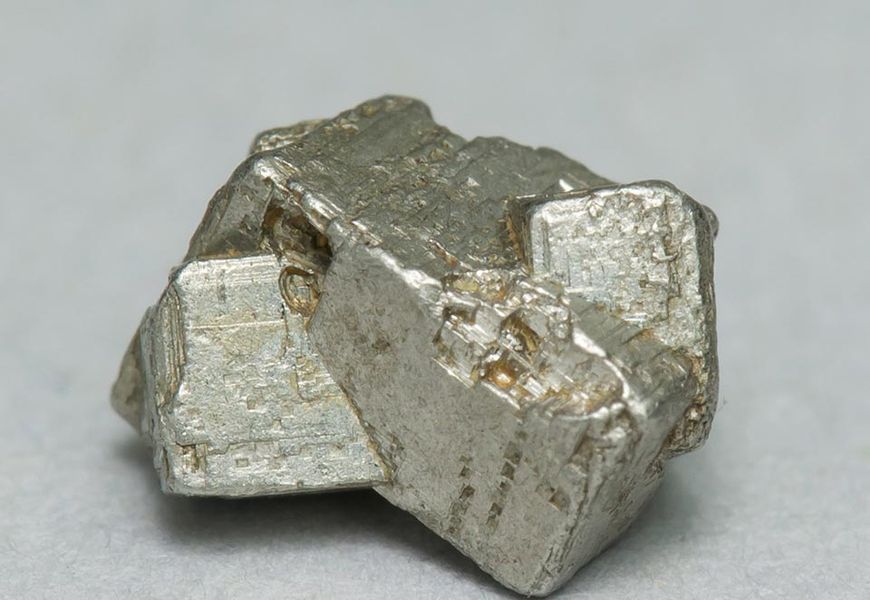 The hallmark on the white gold alloy, what does it look like?
Opinion of an expert
Mikhail Petrovich Grishanov
Jeweler, Director of Grishanov & Co.
One should pay attention to the numbers of the stamp: 585, 750. Its shape is also important. The white alloy is marked with a figure resembling a spatula, consisting of right angles.
My happy white ring story
"I recently came across an advertisement for a jewelry store, and there was gold alloy jewelry. I immediately remembered my first ring made of this material. At that time my boyfriend proposed with this very ring. I did not realize that it was gold, I thought it was silver. A very beautiful, exquisite ring with a medium-sized stone. Moreover, there were paired rings in the box - my future husband did not wait for my consent, he was counting on my consent in advance.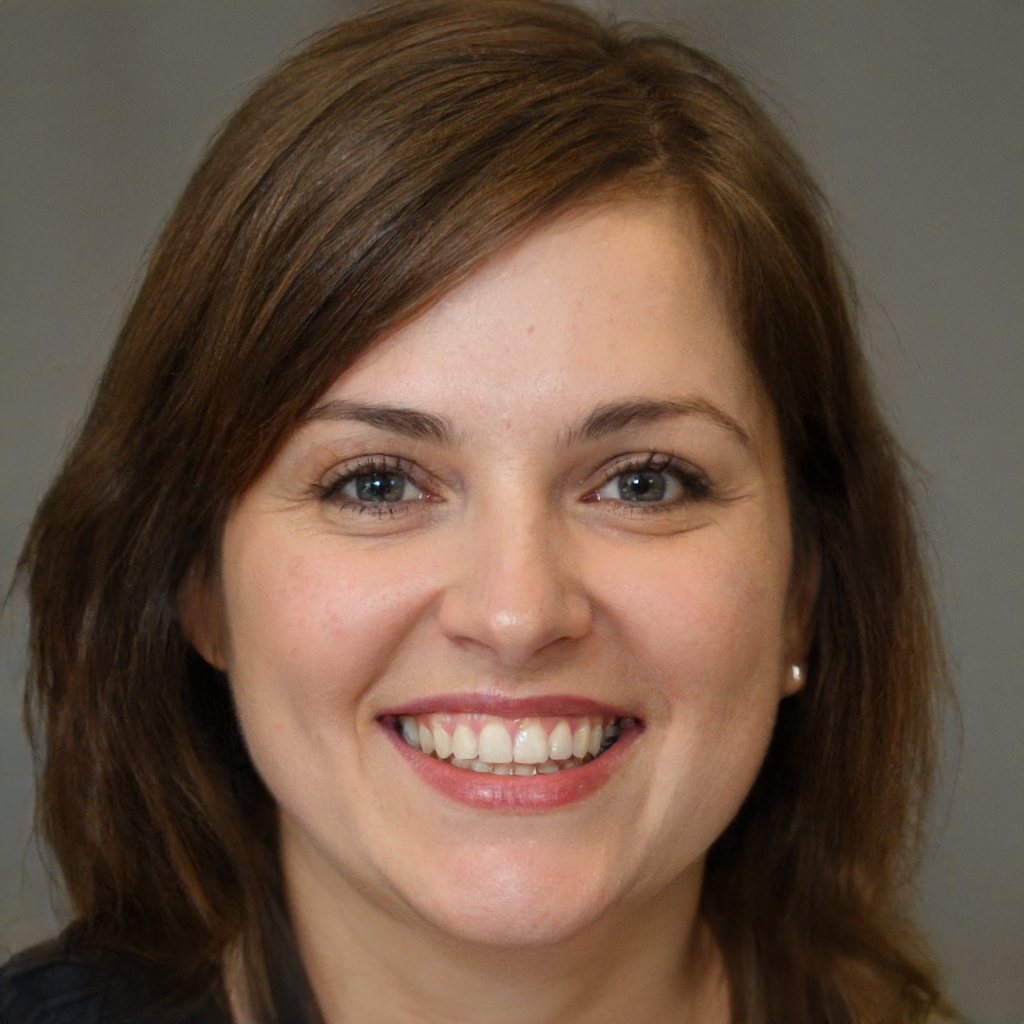 By the way, we hadn't talked about marriage until that day, we had only been dating for two months. This confidence of his somehow angered me right away. I wouldn't say that I made a scene, but of course I said everything that I thought about it. I was a little offended, but then melted. He told me later: he was in a hurry, so no one would steal me away. We've been together for fifteen years now. By the way, I have since learned to distinguish white precious metal from silver and fakes: I throw it lightly on the showcase, the ringing will be cleaner than in the case of other materials.
Video: how to check the authenticity of base metal
The importance of care, cleaning, and careful storage of fine white metal at home
Key recommendations:
You should not wear jewelry during physical work;
Before you go to the sauna, you have to take them off;
jewelry should not come into contact with chemicals (detergents and cosmetics);
for storage provide a box with compartments and a soft coating inside.
The jewelry should also be periodically cleaned, for which purpose the following products are used: "Flurin", "Talisman". Mellerud paste is used for polishing, and special devices are used for jewelry with stones.
Assay of gold alloy white on jewelry: reviews of buyers
When we were choosing earrings for our daughter, we decided on white gold alloy. It is the only metal she is not allergic to. You have to choose a 585 alloy without nickel.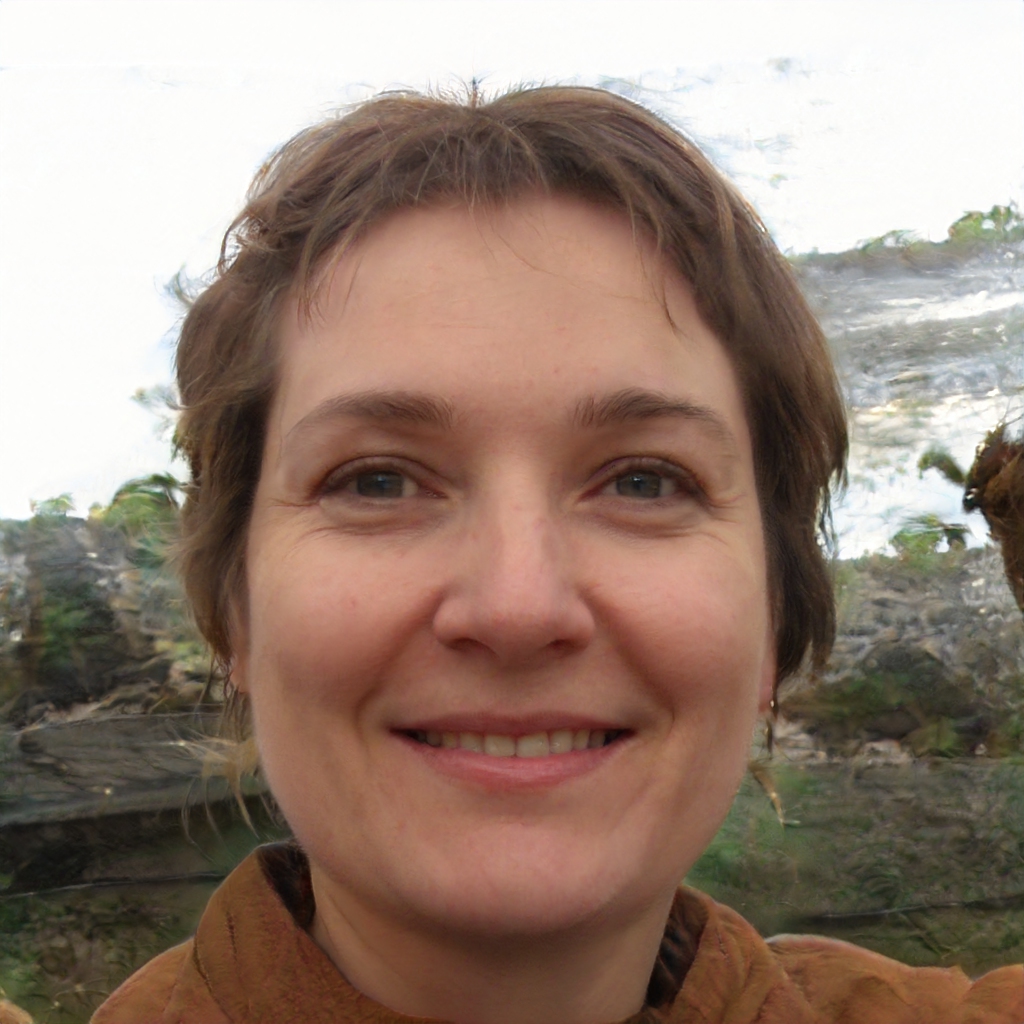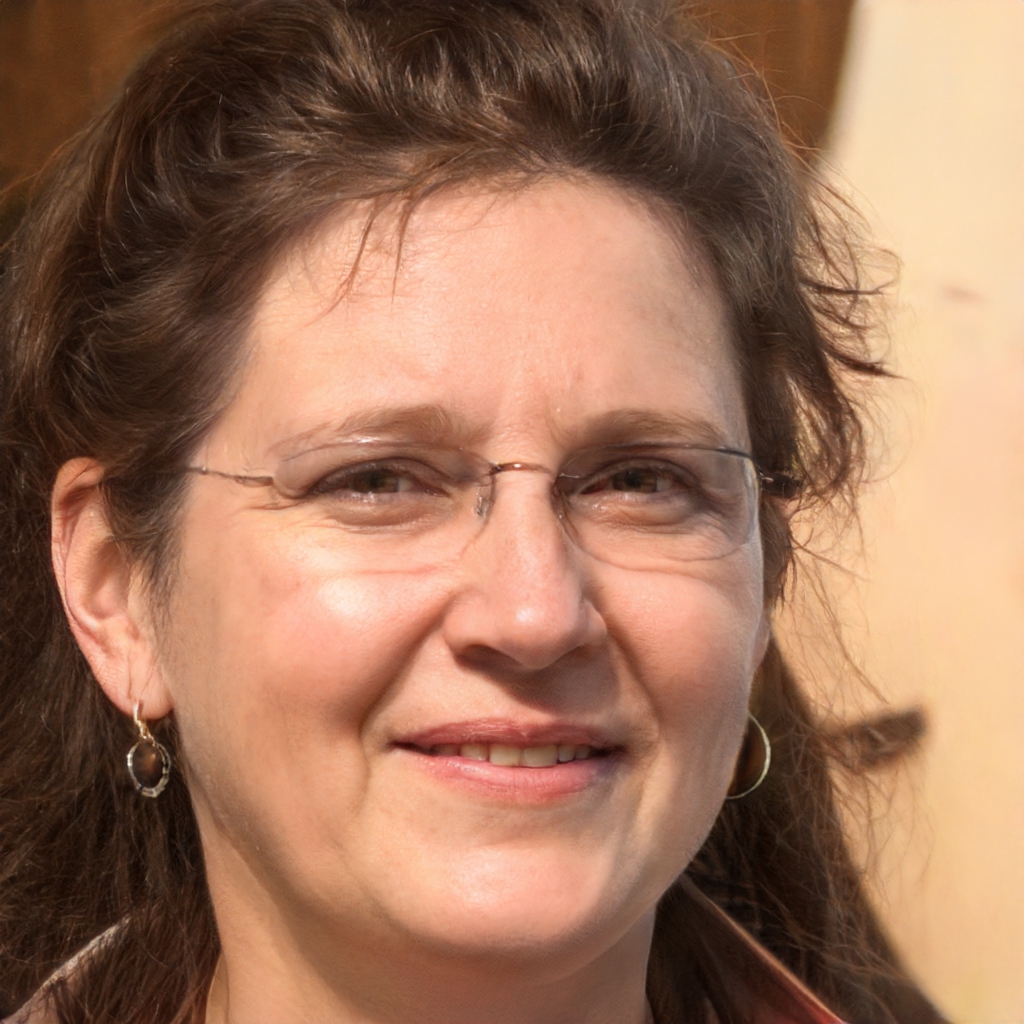 I always pay attention to the shape of the assay, not just the numbers inside the stamp. This is important, as it is the rectangle that will be on the gold. For example, I used to think that the shape of the hallmark is the same everywhere, the main thing is the numbers. But this is a mistake that many people make.
I was once sold rhodium-plated yellow gold. I no longer consider such jewelry, as there is no guarantee that there is white metal inside. But it is fair to say that you don't necessarily have to buy rhodium-plated white alloy jewelry. If you look for pure metal, there is less chance of the seller cheating.