Silver brazingThe soldering is a highly sought-after, frequent procedure in the jewelry industry. Only by soldering can a broken chain or bracelet be joined together, it is also used to make highly artistic precious metals. For fans of silver it will be interesting to understand the process of soldering silver at home, the methods of carrying out this work.
Silver and its properties. When soldering silver is necessary
Silver - is a "white" precious metal that is actively used to create jewelry. Its sacred properties have been known since ancient times, but it is its physical properties such as softness, malleability, and fusibility that have made it popular in the jewelry industry.
When it is necessary to restore a broken piece of jewelry or to correct a deformed area, silver brazing is used.
Soldering silver is not only used to repair jewelry, but also to make new items or to update old ones. The 925 proof is taken as the basis.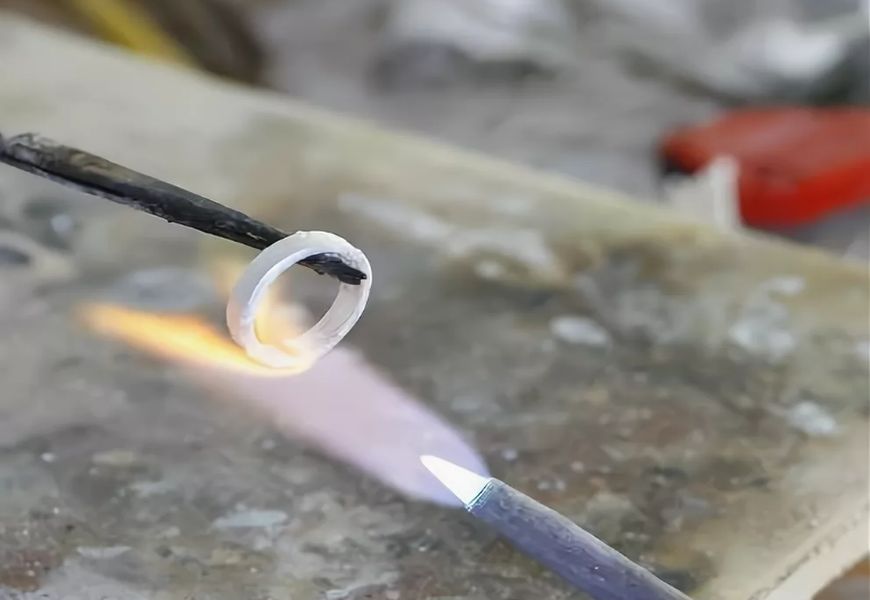 The necessary ingredients for how to solder silver at home
How to solder silver at home? Soldering at home is quite possible, but you need to take care of special props, learn simple skills, also read the recommendations that will be presented in this article.
You will need special tools for the work, which are easy to buy.
Fireproof surface
The fireproof surface itself is a working platform for soldering. It will protect the room from fire, allow you to conveniently place the decoration, and then safely carry out all the work.
The surface can be made of asbestos board, it can also be a sheet of metal or workbench top.
Soldering iron
As a soldering iron it is better to choose not a classic product for soldering black metal, but a miniature soldering iron, which is used for soldering chips. Its quality contrast - small size of the glow needle, as well as light weight and fast heating.Otherwise, it is completely the same as the original product. It works from a 220V mains supply.
Gas burner
The gas burner consists of a removable cylinder, which is changed when the gas runs out, a nozzle and a piezo element. When the button is pressed, pressurized gas is supplied to the nozzle and ignited by the piezo element.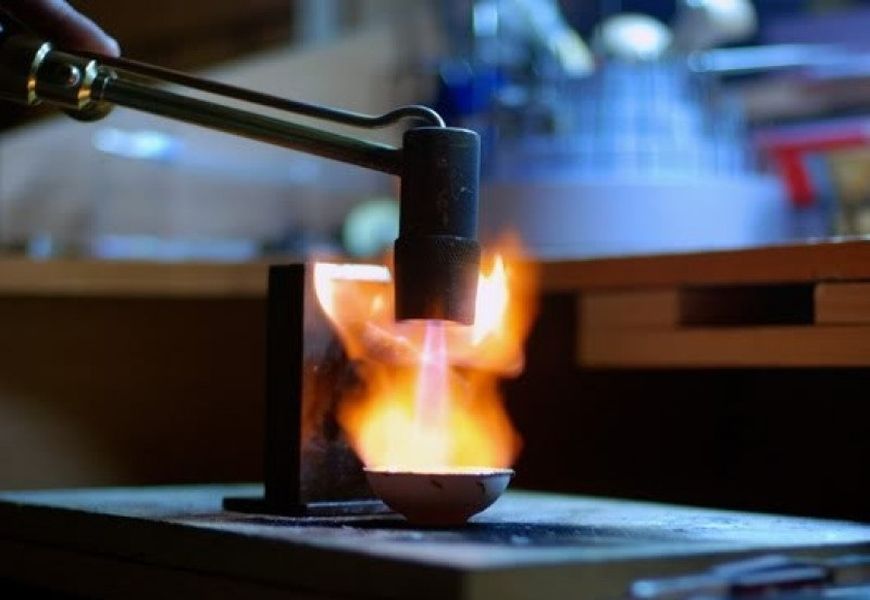 The torch is needed to melt the edges of the silver jewelry, as well as to create a fusion area.
Solder: what it is, types
Solder is needed to create a thin "bridge" of melt, which, when solidified, solders the elements of the jewelry. How do I solder with silver solder?
For soldering silverware As a rule, only silver-based solders with the addition of other fusible metals are used.
The silver content should not be lower than 70%, tin can be used as a filler metal.
It is this composition of solder that ensures its strength, bonding to the base, i.e. to the jewelry, as well as strength and durability. The most commonly used solder grade is PSR-70, where 70% is the silver content.
PSR-70 can be produced as a granulated powder, wire, short bar up to 3-5 mm, as well as in the form of a thin sheet with a thickness comparable to the foil thickness of a chocolate candy.
Homemade and proprietary flux
The purpose of flux is to cover the damaged surface during soldering and also to keep it free of atmospheric air or moisture. Now you can buy flux readily available at any store that sells locksmith supplies. It is a whitish powder that is packaged in sachets.
Flux for soldering silver with your own hands, consists of an aqueous solution with borax powder.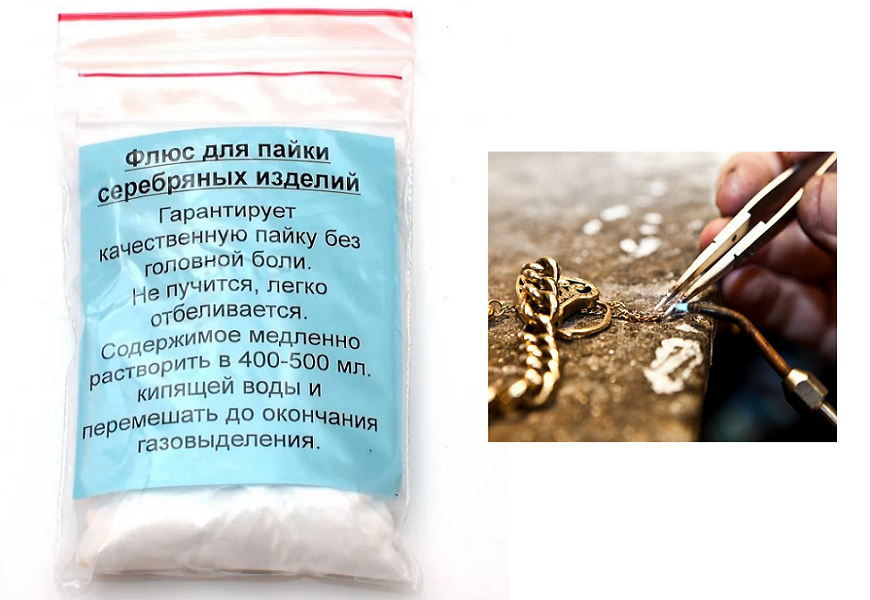 Borax is a chemical, officially called "sodium tetraborate. It is freely available in any large pharmacy, as it is used in medicine.
How to make flux is the first step in the question of how to solder silver:
The borax should be poured into a metal container, you can put it in a saucepan.
Pour distilled water (it must be unadulterated, simple boiled water will not do).
The powder dissolves when heated over low heat.
After dissolving, you get a homogeneous mixture, which should be cooled at room temperature.
After cooling, the flux substance crystallizes at the bottom. The crystals have to be extracted.
They are then ground to a powder into which water is added.
The substance should be similar to gouache in consistency.
Acid solution for etching
Acid for etching is used to degrease surfaces for soldering. If the surface is dirty, the solder will not "grip" and the jewelry will disintegrate.
The most common etching liquids used are hydrochloric acid (HCl) or sulfuric acid solution (H2SO4). These can be purchased at specialized technical stores where solder accessories are sold.
Tools
In addition to the soldering iron, solder, acid, you will need the following auxiliary tools than solder silver:
Tweezers: needed to hold silver jewelry while working with a soldering iron or torch.
Pliers: they are used to bite off solder or fragments of the jewelry itself when restoring or remodeling.
Copper pliers: needed to squeeze the two surfaces when soldering. Copper is used, as any other hard metal can deform the jewelry.
Brush: Use a brush to apply flux and clean the surface, you can also apply acid.
Piece of cloth: a flannel cloth is necessary for wiping after the silver has been degreased with an acid solution.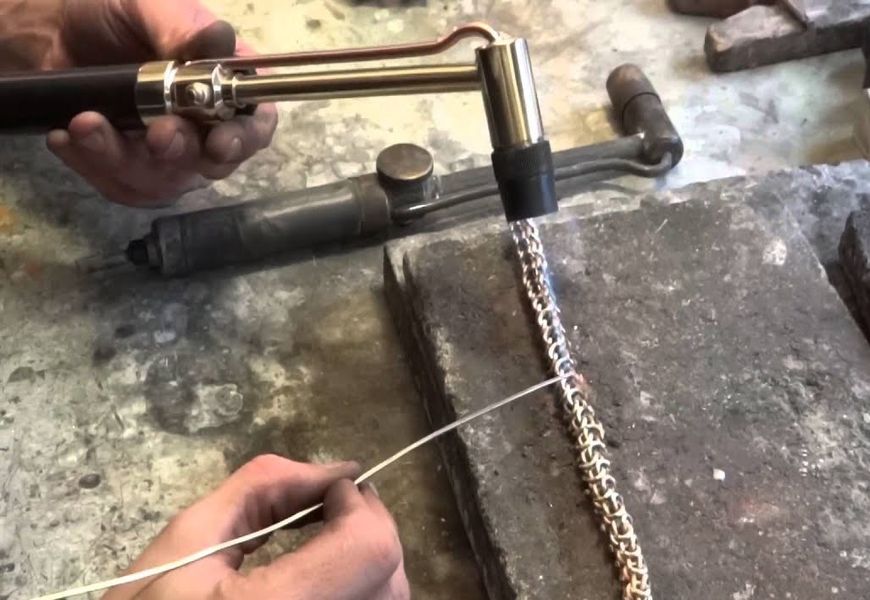 Safety precautions for repair work
Since soldering is a process that involves the use of acids, a high-temperature soldering iron and a gas torch, basic safety rules must be followed:
work is performed only on the refractory surface;
Use tight-fitting rubber gloves and safety glasses when handling acid;
The flame of the gas burner must be extinguished whenever work stops;
a special stand is used for the soldering iron.
The action of the acid is neutralized by simple baking soda. It is necessary to put it on a saucer next to yourself to remove the acid, if it suddenly got on your skin. Afterwards the surface of the skin is rinsed with water.
Silver chain soldering technique with a soldering iron
In order to understand how to repair silver chain using a soldering iron, it is necessary to perform the following activities of each step:
The surfaces are cleaned of dirt and degreased with acid, and then wiped with a flannel rag. It is desirable to perform everything on a sterile surface. This means that the refractory stand is also wiped down and degreased beforehand.
The two soldering surfaces are heated with the soldering iron. It is important that the temperature of the surfaces is higher than the melting point of the solder, otherwise the silver chain cannot be soldered.
The surfaces are supplied with melted solder coated with a layer of flux.
The surface is additionally heated with the soldering iron until the flux melts. The feather of the soldering iron carries the melt from one surface to the other, forming a joint.
After cooling, a small groove is formed at the joints, which should be sanded to an even surface.
If the craftsman is soldering sterling silver 925 of the sample, then the grinding is done with high-precision tools.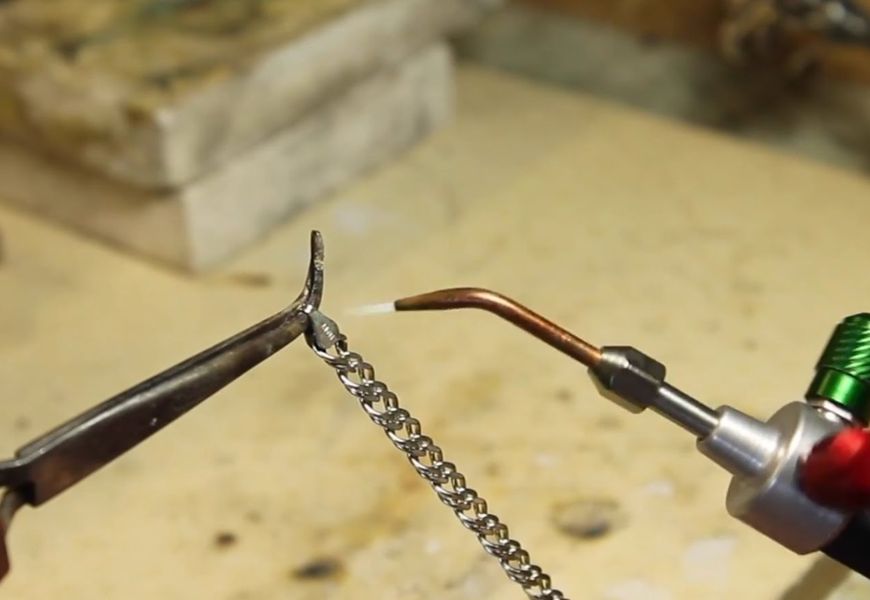 Process of soldering with a gas torch step by step
Plan of actions when working with a gas burner:
The silver surface is cleaned darkening and traces of oxidation.
A layer of liquid flux is applied to the soldering point.
A small piece of solder is applied to the soldering point. Its dimensions should be comparable to those of the faces to be joined.
The flame from the torch is fed to the soldering point, but so that the solder is not blown off.
Once the solder begins to melt, the torch flame gradually intensifies until the solder becomes molten and forms a single bond of faces.
After it cools down, the joint is deburred and sanded. All roughnesses must be smoothed out and any flux residue removed.
Solder quality: how to repair well
The efficiency of soldering directly depends on the quality of the solder. In workshops, which are engaged in repairing jewelry, it is mandatory to use high-quality silver-based alloys with the addition of purified copper or tin.
To give the solder a silver luster, up to 20% of zinc powder is added, which forms a corresponding color when melted.
You can make your own solder, but you will need a muffle furnace and the starting elements: tin, silver, or copper. If you are soldering yourself at home, it is better to buy a ready-made rod or wire. In this case, you can count on the quality of the future connection.
Quality solder is distinguished by the following characteristics:
it has a uniform shade, if solder is made in powder form, it has a homogeneous structure;
the solder does not bubble or "splash" when melted, as this means that there are contaminants in the alloy.
For checks you can preheat and melt a small piece of solder.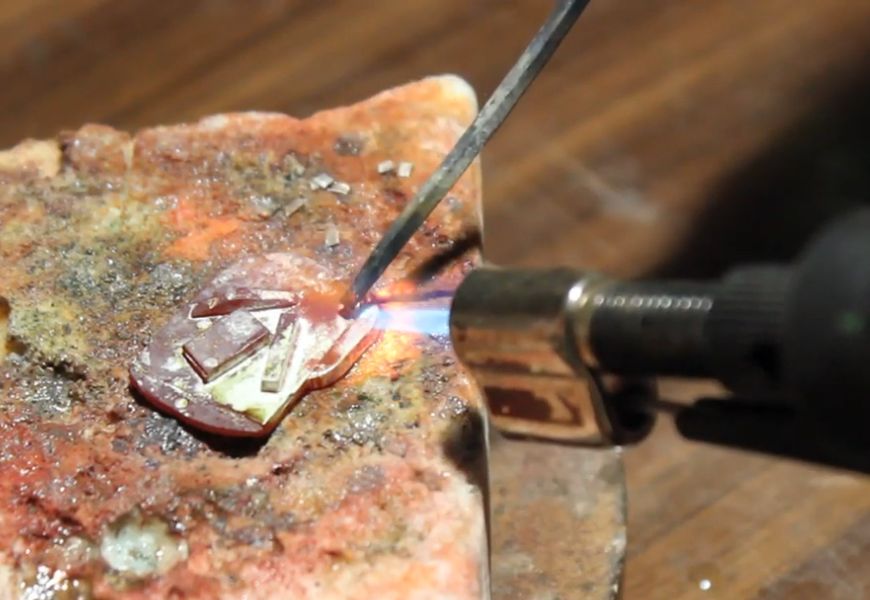 Nuances of soldering for beginners
Since soldering is not easy, and technological processThere are a number of useful guidelines for beginners:
To fix the surfaces of the jewelry, it is better to use special copper clamps, which will fix the facets for soldering to a non-combustible working surface.
Do not give maximum flame in the burner at once, because the solder may "blow off".
Newbie mistakes
The most important mistake a beginner makes is to underheat the solder to its melting point, at which point it begins to flow. If the solder is only slightly melted, the solder pen should not be acted upon, because the solder will simply shift without joining the surfaces. It should be heated to a liquid flowing state and then the edge-to-edge transfer will be easy.
Question and answer section
Is it possible to solder silver with an ordinary tin soldering iron?
Opinion of an expert
Mikhail Petrovich Grishanov
Jeweler, Director of Grishanov & Co.
Unfortunately, soldering silver with tin is not possible because of the different densities of the metals. Tin is able to join the edges, but even the slightest mechanical effort will destroy the jewelry again.
How to repair a silver chain with their own hands at home, is it realistic?
Opinion of an expert
Pribrezhny Gennady Valentinovich
6th class jeweler
You need to buy special tools and accessories, provide yourself with a workplace and the safety of the work, use the manual and do the repair yourself.
It is advisable to practice a little before you start. To do this, you can try soldering two solder rods.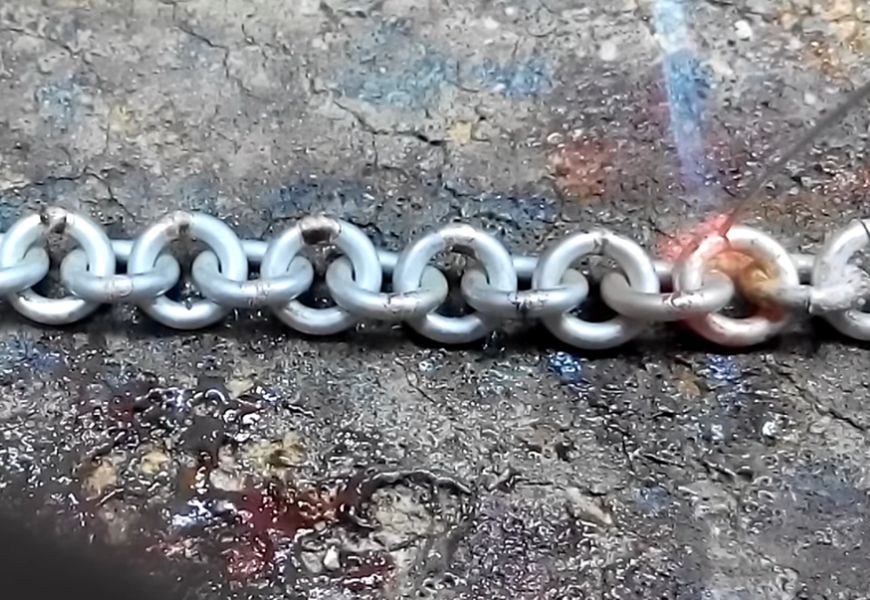 Is it possible to make jewelry only by soldering?
Opinion of an expert
Andrey Seleznev
Chemical-technologist of the plant "Krasny Oktyabr" Volgograd
Yes, it is possible if prefabricated composite elements are used. But it is not possible to make a piece from silver powder, since the processing of melts involves the use of a variety of artistic tools and casting.
When you need the help of a jeweler. Table: The cost of services in your city
If you urgently need the help of a jeweler to repair your silver jewelry, it's a good idea to go to a repair shop at your nearest address. A set price list is provided for each type of soldering.
Soldering prices vary depending on the type of work, the region.
Krasnoyarsk:
| Soldering type | Cost |
| --- | --- |
| Soldering iron | from 800 rubles |
| Gas burner | from 1000 rubles |
Tyumen:
| Soldering type | Cost |
| --- | --- |
| Soldering iron | From 1000 rubles |
| Gas burner | From 1100 rubles |
SPB:
| Soldering type | Cost |
| --- | --- |
| Soldering iron | From 1000 rubles |
| Gas burner | From 1100 rubles |
Moscow:
| Soldering type | Cost |
| --- | --- |
| Soldering iron | From 600 rubles |
| Gas burner | From 900 rubles |
Novosibirsk:
| Soldering type | Cost |
| --- | --- |
| Soldering iron | From 700 rubles |
| Gas burner | From 900 rubles |
The price is also determined by the complexity of decoration and the amount of work.
Video: soldering and repair of silverware at home. How to solder a silver chain
Jeweler's comment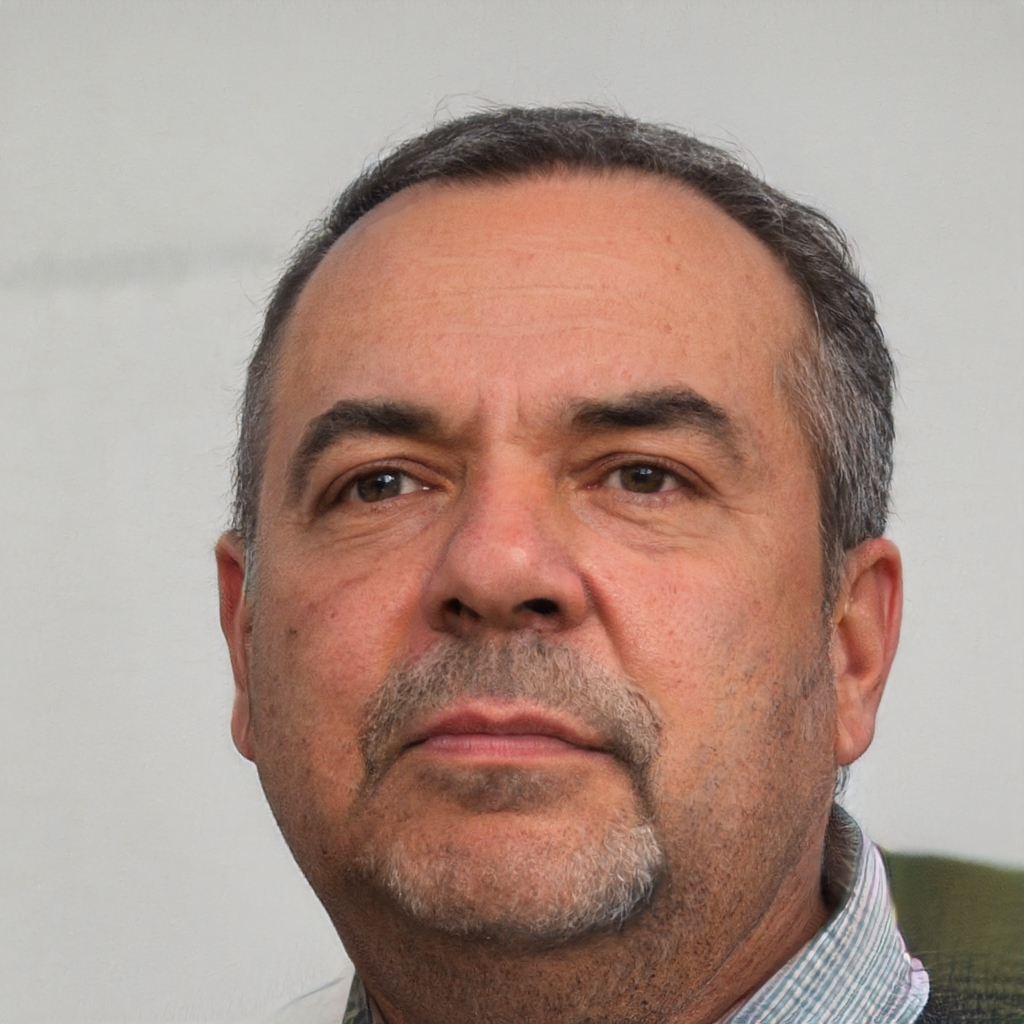 Molokanov N.M.
Jeweler, experience in jewelry manufacturing 26 years.
Soldering jewelry has been done since time immemorial. Soldering can be used to restore a chain, a bracelet if it is torn, a ring or a spoon made of silver. Today the process is more technologically advanced and sophisticated. Working with silver is considered somewhat easier than with gold because of the softness of the metal.

This should be taken into account when doing soldering on your own. In jewelry shops, this type of work is not considered something difficult, and if you provide a normal workplace at home, you can easily perform all soldering work in your apartment. The main thing is not to rush, carefully follow the instructions and observe safety standards.